The KAGOME SYSTEM is a strict method of vegetable cultivation and production, which requires thorough
quality control, beginning with soil and farmland selection—accounting for environmental conditions
in land neighboring KAGOME contract farms—to the final second of delivery to the customer.

"The color tells me
it's packed with flavor."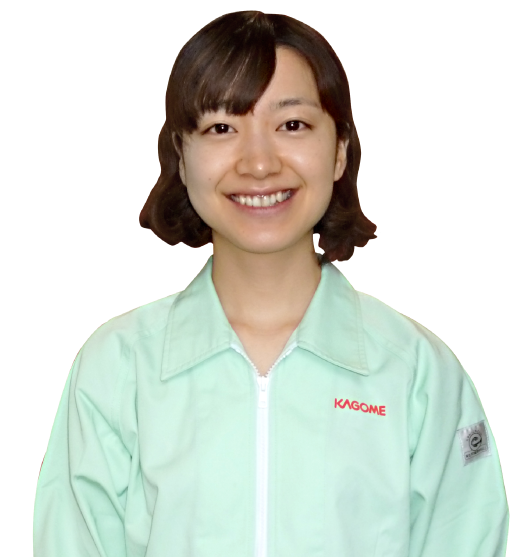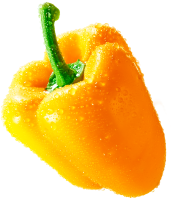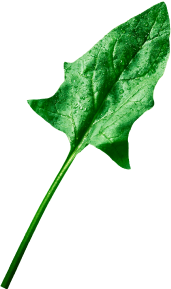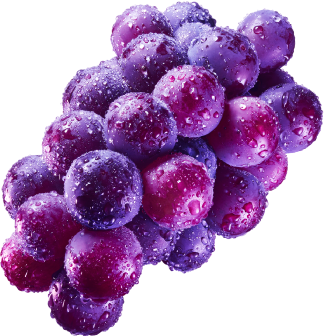 When it comes to our YASAI JUICE, we make sure our blends are the exact colors we want them to be. As a result of keen inspection before and after processing, KAGOME YASAI JUICES feature incredibly vibrant colors, an indication that they are packed with the nutrition and energy of the vegetables inside.
The plants where our YASAI JUICE is produced feature technologies to ensure that high standards of quality and flavor are met. However, because our juices are made of natural vegetables, the flavor of the ingredients can vary from day to day.
To ensure that we can accurately assess any changes in the vegetables we use, our produce experts conduct sensory testing at all stages of production, from pre- to post-processing.
Because some tasks can be trusted to machines and others cannot, we place importance on up-close evaluations conducted by people using their hands, eyes and noses. Human evaluation is an essential step in our quality control process and enables us to provide our customers with brightly colored juices bursting with the true flavor of natural vegetables.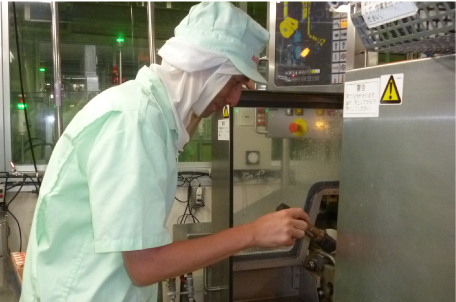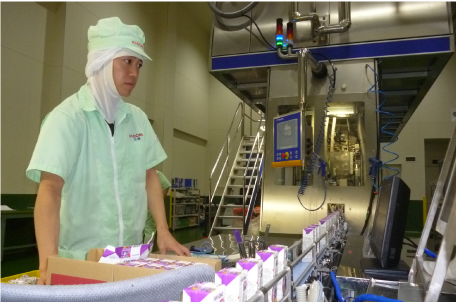 "We believe strongly in the nutritional power of
vegetables, so we make it a top priority to ensure
our produce is safe enough to provide peace of
mind to our customers."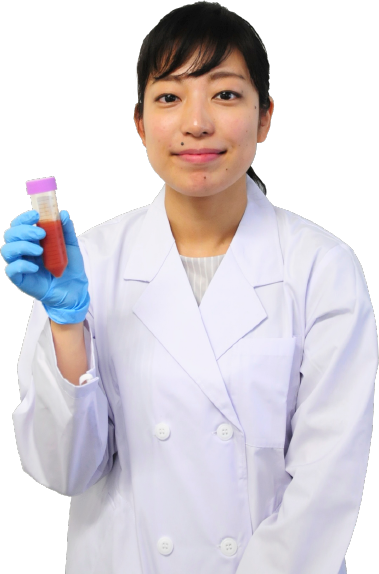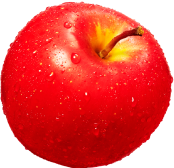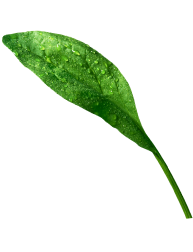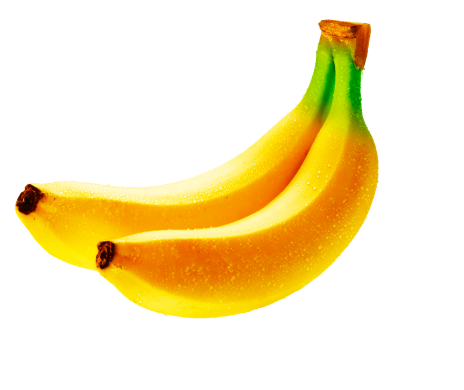 KAGOME carefully monitors and analyzes every agrochemical used in the production of YASAI JUICE with the goal of creating an exceptional beverage.Thanks to such precise and strict polices and processes we are able to produce YASAI JUICE that is not only safe but also delicious.
Today, KAGOME procures vegetables from farms around the world, so it is important for us to carefully monitor and analyze agrochemicals in each and every ingredient we use by conducting thorough inspections of all the vegetables we procure. Only vegetables that pass our standards may be used in our products. In addition, we closely follow the agrochemical standards in other countries, noting the latest R&D and recommendations of global scientific bodies, thus regularly re-evaluating and updating our own criteria. Placing such a high priority on safety and our customers' peace of mind is a key to what makes YASAI JUICE unique to KAGOME.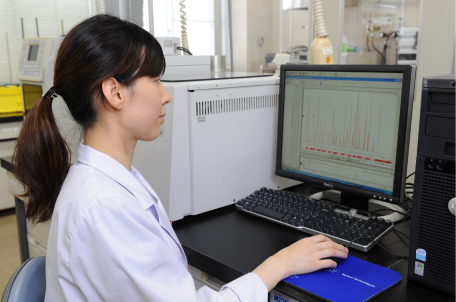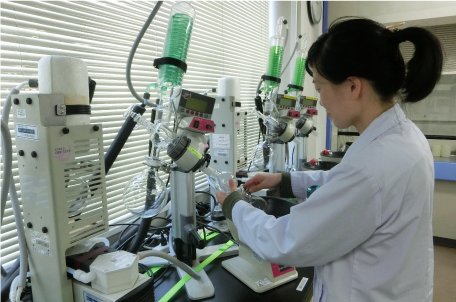 "My farmland's soil
feels like a fluffy mattress."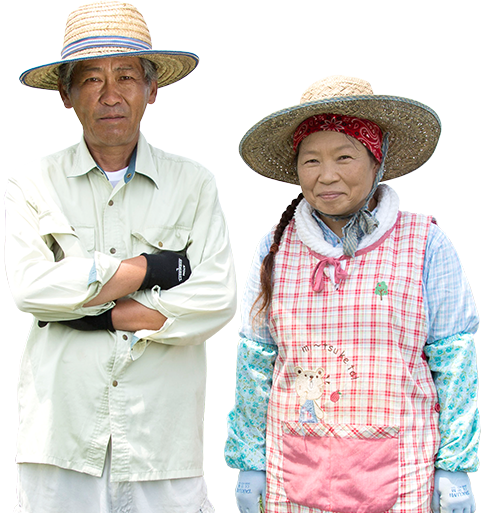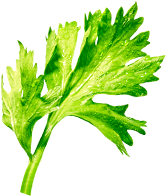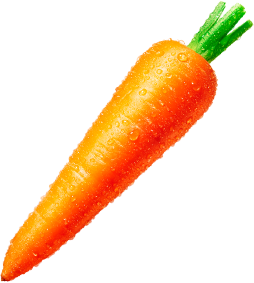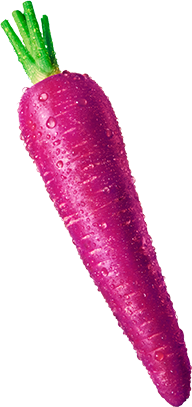 Production of YASAI JUICE starts with scrutinizing the best farmland. We even periodically evaluate the environment of land neighboring our contract farms to inspect soil quality, and make frequent evaluations of soil fertility, acidity, fertilizer-retention capacity and the presence of pests. No doubt, establishing rich farmland is the first step to growing exceptional produce.
It's no secret that the most delicious products are made from robust vegetables—and for us the best ingredients come from quality farmland. This is the core of our KAGOME SYSTEM for producing YASAI JUICE. We consider farmland to be our "primary production plant" in the juice-making process. That's why our juice production system begins with selection of farmland, where we check the conditions of the surrounding area and run a thorough quality control checklist, evaluating: soil fertility, acidity, fertilizer-retention capacity and pests.
The techniques and processes employed in our field cultivation methods are applied not only to our domestic farmers and producers, the methods are also widely employed for ingredients procured from overseas locations.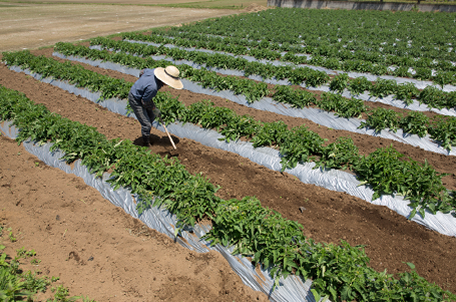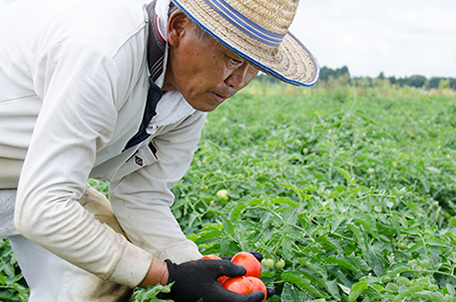 "No order is too demanding
if it results in top quality vegetables."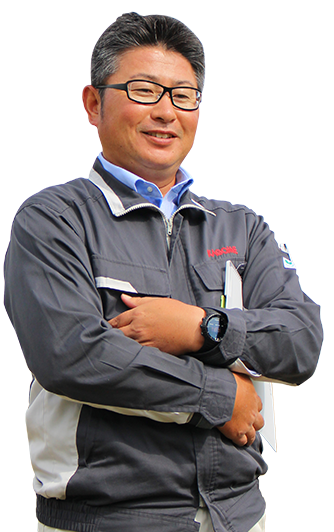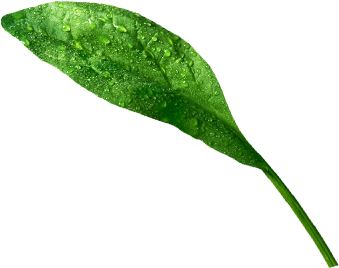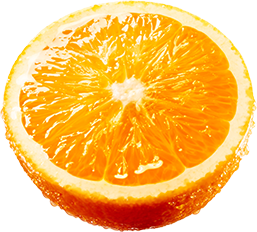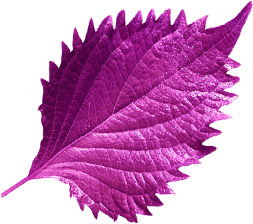 A passion for vegetables and deep knowledge of the ingredients used in our products earns our Field Managers the trust and respect of farmers around Japan. These nine Field Managers manage and supervise a wide range of operations including farm contracting, produce purchasing and quality control for 1,600 farms.
Only nine Field Managers, who are all full-time KAGOME employees, are in charge of purchasing vegetables from our contract farms, playing the most important role in the making of YASAI JUICE. These individuals make time to visit our farms, employing superior knowledge, experience and a passion for produce to negotiate with farmers—on the front lines of our business—who have both advanced technology and high standards. As consummate professionals, these specialists have established strong, mutually-beneficial relationships with many farmers. Our Field Managers continuously support farmers by sharing KAGOME's policy for quality production and their own farming expertise. Without our Field Managers, producing KAGOME YASAI JUICE would be impossible.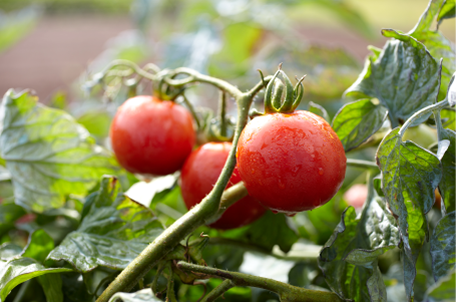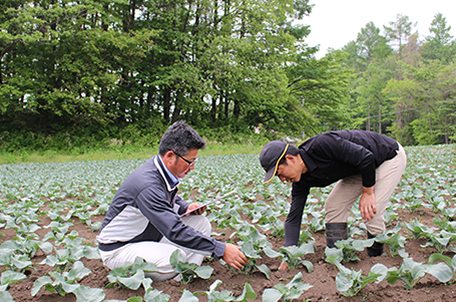 "Our advanced production facilities
are designed to deliver products to
as many customers as possible
around the country."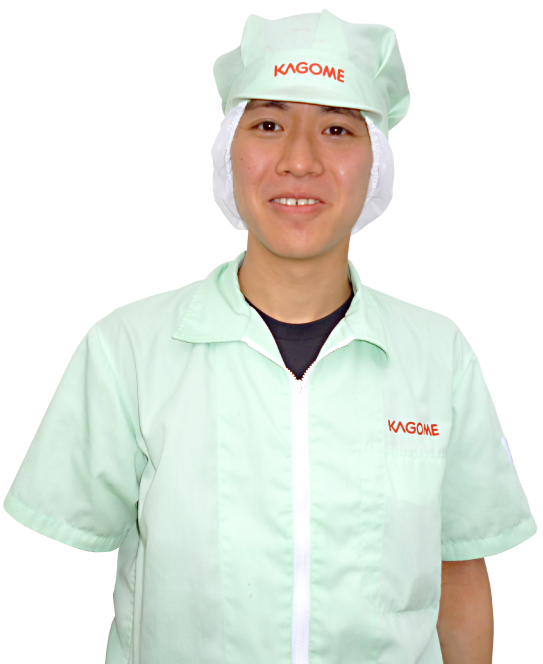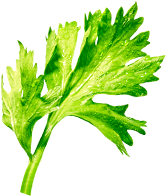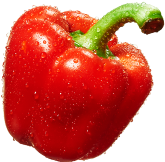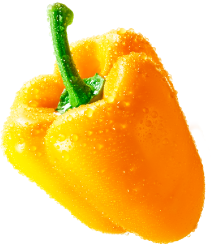 We employ a range of advanced production systems in our factories. Specially at the KAGOME Fujimi Plant in Nagano Prefecture, we have the world's fastest juice pack filling line. Our passion to deliver the essence of vegetable nutrition to our customers drives us to continue refining the innovative technologies in our production facilities.
At KAGOME, in order to get the most out of ingredients shipped from all over the world, while optimizing the flavor of our products for customers, we have developed a range of technologies, installing advanced equipment and other diverse tactics.
For example, we can fill vegetable juice packs at a rate of 350-500 per minute at the KAGOME Fujimi Plant. Such exceptional facilities are part of the KAGOME SYSTEM, which makes it possible to deliver KAGOME YASAI JUICE throughout the country.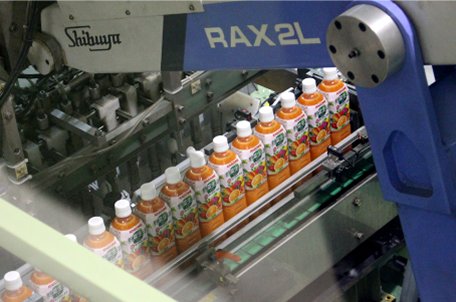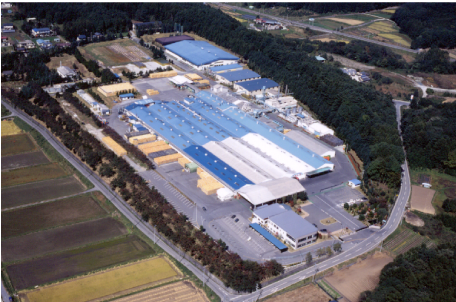 "When tomatoes 'speak',
my nose does the listening."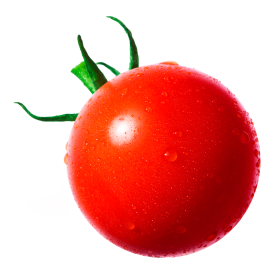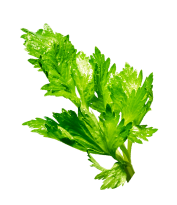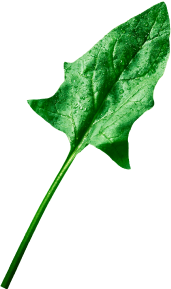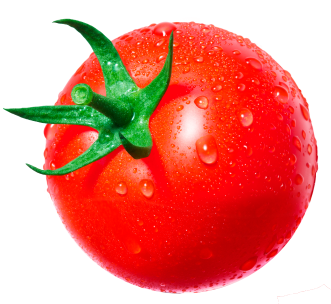 Wataru Takada can recognize the brand of a tomato or tomato juice simply by getting a whiff of its aroma. He's a certified KAGOME Tomato Sensory Expert (TSE). His incredibly high level of expertise has allowed KAGOME to produce a superlative blend of tomato juice that's beyond compare.
TSE is a KAGOME certification that indicates an individual is capable of recognizing tomato and tomato juice quality as well as specific brands by their aromas alone. Currently, the only person to hold this qualification is Wataru Takada of the KAGOME Material Development Division, Innovation Headquarters. His work at KAGOME is a vivid reminder of our dedication to quality control and development of a wide range of products. It has been under Takada's comprehensive guidance that we have been able to produce KAGOME TOMATO JUICE PREMIUM. We developed such an exquisite tasting juice through a dedicated processing technology using only tomatoes harvested during a limited time frame.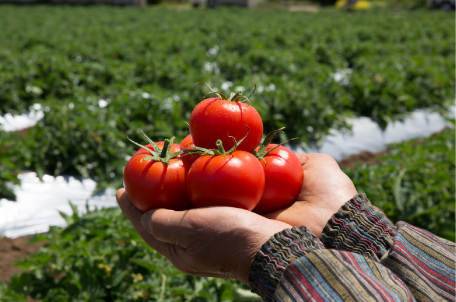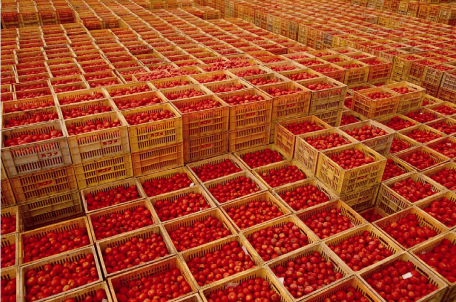 "Maintaining what
we have is just as
important as developing
something new."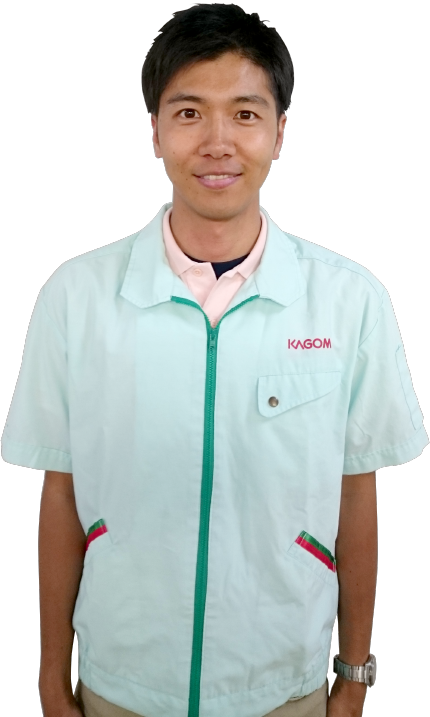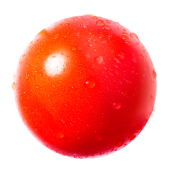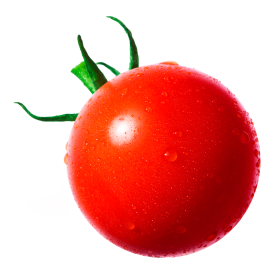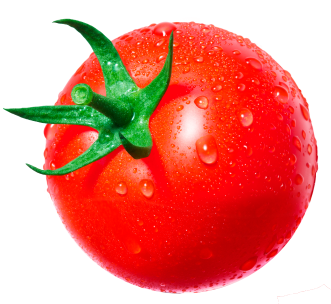 One of KAGOME's key R&D operations is to own a wide range of genetic resources for vegetables. We own the seeds of more than 7,500 tomato varieties, which allows us to develop original tomato varieties every year.
KAGOME maintains 7,500 different varieties of genetic sources. Among private companies, KAGOME owns one of the world's largest resources. However, because once genetic resources are lost, they are gone forever, we periodically cultivate 7,500 varieties of seeds to harvest new generations and maintain our genetic pool. We are committed to protecting each and every one of our tomato seed varieties, which we consider the essence of "KAGOME VALUE."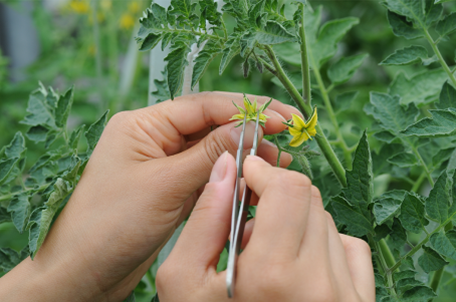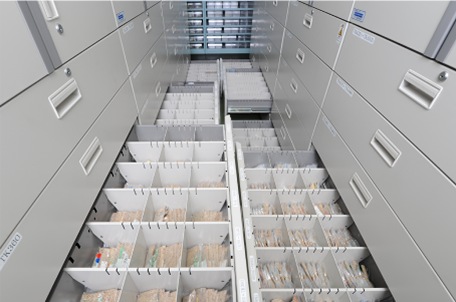 "I want our customers to experience
that special aroma that only comes
from in-season produce."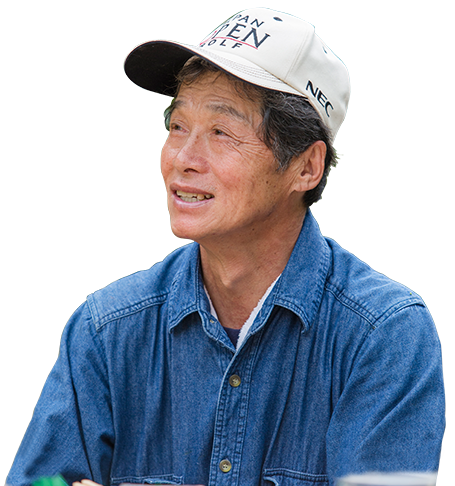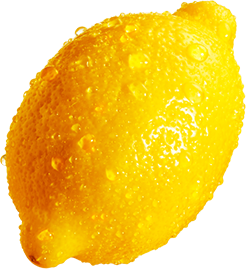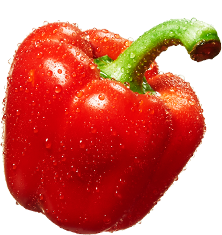 Our special flavorful produce is harvested at only specific times in certain regions of Japan. At KAGOME, we carefully develop products that maximize the delicacy of local speciality produce and thereafter we deliver them throughout the nation.
In Japan, which has four seasons, at any given time a local region could be blessed with special vegetables and flavors of the season for limited time. We identify the fruit and vegetables that are recognized and loved as regional specialties. Then we deliver special products in the form of beverages throughout the nation.
We greatly appreciate the people of these areas, and we share our ideas with all who work to cultivate regional produce. Through local produce for national consumption, we bring the variety of local areas to consumers around the country, spreading smiles.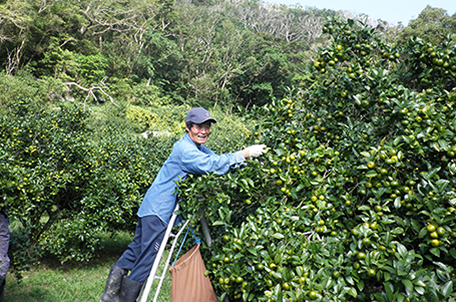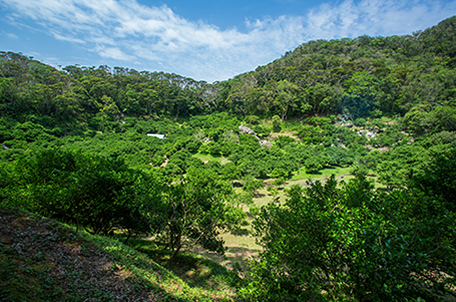 "We embrace new technologies
with respect to the wisdom of experience."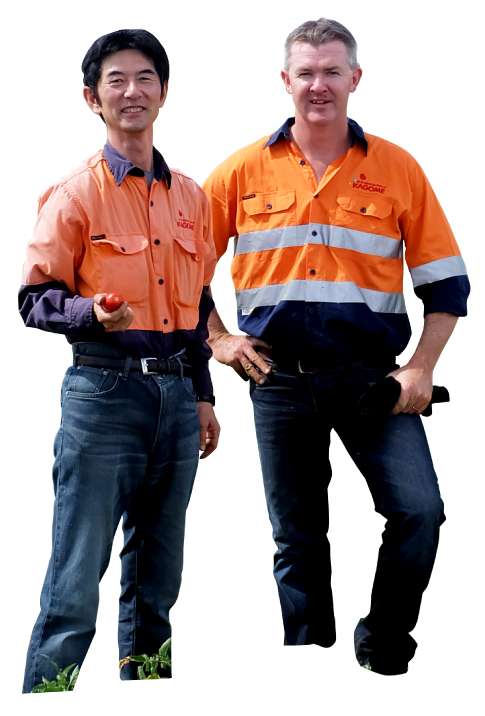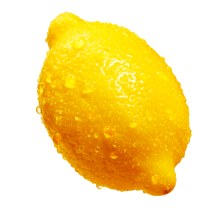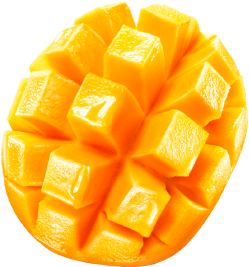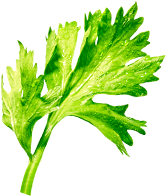 The KAGOME SYSTEM promotes development of agricultural technology with a view to sustainability, while at the same time protecting natural resources for the future. Our goal is to maintain the ideal environment of our farmland for as long as possible, as well as conducting R&D on cultivation methods that greatly reduce environmental strain.
Our farming is carried out with foresight, focusing on both cultivation today and protecting current agricultural conditions for the sustainability. For instance, KAGOME Australia has adopted technologies for fertile soil development including water and fertilizer management and crop rotation, in accordance with the agricultural standards of Unilever, one of the world's leading consumer product brands.
In addition, we often team up with leading agricultural technology companies to develop special varieties of vegetables that are ideal for local climates and soil conditions, thus establishing farming technology for future generations.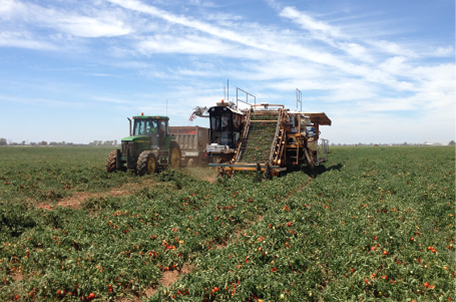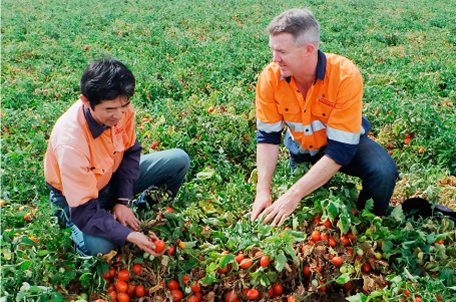 "Uncompromising quality control makes
KAGOME our most dependable partner."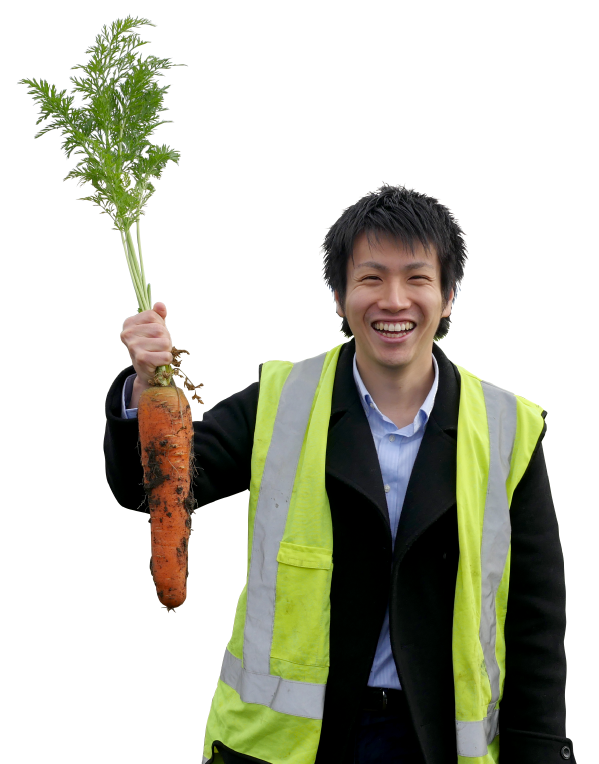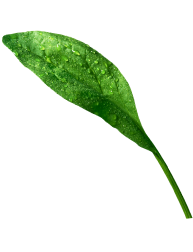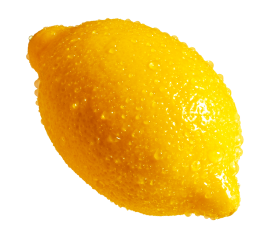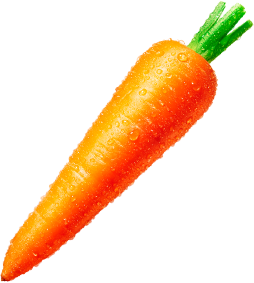 At KAGOME, our business is to ensure the best possible flavor of the vegetables going into our products, and we never compromise on the quality of our ingredients. To make sure every vegetable is of superb quality, we procure them from our contract farms and affiliates around the world, as well as around Japan.
To make YASAI JUICE, KAGOME procures vegetables from several different countries around the world. Because vegetables are natural products, of course, crop yields are not necessarily uniform, and produce can vary by season.
Moreover, crop yield is influenced and, indeed, dependent on the weather. For this reason, KAGOME has several hundred locations not only in Japan and the USA, but in countries around the world—spanning Asia, Africa, Europe, Oceania, and other areas—where we procure a stable supply of natural ingredients.
That's how KAGOME delivers optimal seasonal flavors to customers around the year. We consider our YASAI JUICE to be essentially the same as the vegetables harvested from our farms—and that's the reason behind our impeccably high standards.