- Kagome only grows if it supports the growth of society as a whole -
The Kagome Group believes that we can only grow if society remains healthy and vibrant. The idea is to ensure the improvement of our corporate value and sustainable growth by contributing to the growth of society.
The Great East Japan Earthquake caused significant damage in various parts of Japan including the Tohoku region. Under our belief that Kagome only grows if it supports the growth of society as a whole, we are taking various initiatives by building ties for mutual support with those affected by the disaster and those involved in reconstruction efforts in the affected areas.
Development of Human Resources Who Will Lead Regional Revitalization
MICHINOKU Future Fund Supporting Continued Education of Orphaned Children
In 2011, Kagome established the "MICHINOKU Future Fund" along with Calbee, Inc. and Rohto Pharmaceutical Co., Ltd., in order to support children orphaned in the disaster in their dreams of continuing their education. The fund is currently under the management of four companies with the addition of EBARA Foods Industry, Inc.
For children who lost their parents in the Great East Japan Earthquake, we call for donations from all over Japan and provide financial assistance for higher education, from enrollment to graduation. We pay higher education fees, including enrollment fees and the full amount of tuition (with an annual limit of three million yen), with no requirement for repayment. In the next 25 years, we will continue to support children who were not yet born when the earthquake occurred until they graduate from university (or graduate school).
The Fund focuses not only on financial support but also mental health care for students. The Fund helps scholarship students build close mutual ties with one another and create a familial atmosphere through providing follow-up support, including organizing events to promote friendship and interactions among them and annual interviews after they enroll in higher education.
Every March, we host a gathering among scholarship students and their sponsors. At the gathering, the freshman class of students who are entering higher education present their hopes and dreams for the future while their predecessors who have graduated from universities, junior colleges, or vocational schools, present their reflection of the disaster and on the Fund as they are about to enter the real world.
Comments from Kagome employees who serve as staff of the MICHINOKU Future Fund
I am mindful of creating a youth-oriented environment that is conducive to sharing their thoughts.
I strive to not only provide support on getting into higher education, but also to enrich youth's lives through the connections and experience created under the MICHINOKU Future Fund.
Fostering Future Farmers
At Kagome, we support education at agricultural high schools by teaching tomato cultivation to students. This initiative is aimed at fostering future farmers in the Tohoku region.
We began this initiative in FY2012 at two agricultural high schools in areas affected by the Great East Japan Earthquake. We distribute tomato seedlings for processing as educational materials and give classes for work experience with tomatoes, including outdoor and greenhouse cultivation, cooking and processing, and selling. Therefore, we provide students with opportunities to comprehensively learn about tomatoes, thereby helping future farmers, who will play the leading role in the reconstruction of Tohoku, to make their dreams come true.
In FY2021, we provided seedlings to 11 schools in Fukushima Prefecture, Miyagi Prefecture, and Iwate Prefecture and gave hands-on learning classes at three schools.
Kagome's staff gives classes on tomato cultivation, thereby helping to foster future farmers.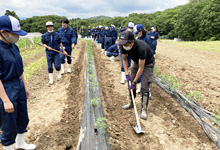 Helping People in the Affected Areas to Improve Their Mental and Physical Health
Fostering a Spirit of Mutual Assistance in the Community
In 2012, Kagome began activities for food education assistance in disaster-affected areas in the Tohoku region using its food education curriculum. Our employees engage in these activities by traveling to the affected areas. They have visited each community to help the local people, who are forced to lead inconvenient lives due to the prolonged impact of the earthquake, to improve their diet and to support the healthy growth of children.
Since FY2012, we annually distribute seedlings of Lylyco tomatoes for juice to elementary schools, nurseries, and kindergartens in Fukushima Prefecture, Miyagi Prefecture, and Iwate Prefecture. In FY2021, we gave classes to experience tomato cultivation at around 212 facilities.
We have continued to implement assistance for the recovery of the region, capitalizing on our strength in food education. Our activities include Kagome Tomato Gekijo in Tohoku, a theatrical event for food education designed for the disaster affected areas in Tohoku, which harnesses our 40 years of know-how from Kagome Theater. Other activities include cooking lessons, where people can experience food education through actual cooking. In addition to the above, since FY2020, we have worked in collaboration with a local NPO in implementing support activities to promote regional revitalization and longer, healthier lives. These include raising awareness of vegetable consumption and healthy stretching routines at reconstructive public housing.
Supporting Industrial Promotion and Regional Promotion
Kagome is also committed to the industrial and regional revitalization in the disaster affected areas. In 2019, Kagome participated in the Yui-no-ba Project hosted by the Reconstruction Agency for the first time, which works to connect local businesses with supporting companies. In 2020, Kagome dispatched marketing staff and staff in charge of promotion tools and menu recipes to provide advice on sales promotion and website layout for a food manufacturer in Higashi Matsushima City, and a Wakame seaweed processing company in Ishinomaki City located in Miyagi Prefecture.
Also, since 2019, Kagome started mowing the fields and bottling wine in support of vineyard cultivation and wine production in the Iriya area of Minamisanriku Town. In FY2021, we assisted in cultivating a newly established vineyard on the summit of Mt. Tatsuganesan in Minamisanriku Town and cultivated Lylyco tomatoes used for Kagome tomato juice in the field next to the vineyard. The harvested tomatoes are dried and used as a snack to pair with wine at the Minamisanriku Winery.
In addition to Minamisanriku Town, we began supporting another regional revitalization in the Yuriage area of Natori City. First, we leased idle land along the Natori River to cultivate Lylyco tomatoes. We plan to use the tomatoes harvested from this field to benefit the revitalization of the Yuriage area.