- Kagome only grows if it supports the growth of society as a whole -
We at the Kagome Group believe that our company can only grow if society remains healthy and vibrant. This idea is to ensure the improvement of our corporate value and sustainable growth by contributing to the growth of society.
The Great East Japan Earthquake caused significant damage in various parts of Japan including Tohoku. Some business locations of Kagome in East Japan and many farmers in Tohoku who supply vegetables to us as raw ingredients also suffered damage. Under our above belief, we at Kagome Group are taking various initiatives by building ties for mutual aid with those affected by the disaster and those involved in reconstruction efforts in the affected areas.
In particular, we will continue to make steady, long-term efforts for the reconstruction of the affected areas in Tohoku and other regions by placing an emphasis on: 1) revitalization of the agricultural sector; 2) development of human resources who will lead regional revitalization, and 3); helping people in the affected areas to improve their mental and physical health.
Revitalization of the Agricultural Sector
Support for the revitalization of the agricultural sector and for the establishment of integrated supply chains for agricultural products
The tsunami triggered by the Great East Japan Earthquake caused devastating damage to farmers in Tohoku.
Because Kagome's businesses are closely associated with agriculture, we are supporting agricultural corporations in their development of new businesses that can help revitalize local farming in the coastal area of Tohoku.
Immediately after the earthquake, we participated in a project for constructing a large-scale horticultural park (with a cultivation area of 2.8 ha) in the coastal area of Sendai City, Miyagi Prefecture. The horticultural park began operating in July 2013.
In 2013, we began to support the cultivation of fresh tomatoes at a large-scale facility of Minamisoma-Fukko Agriculture Co., Ltd. (President: Eiju Hangai; Head office: Minami Soma City, Fukushima Prefecture; Kagome's equity stake: 12.5%). Shipment from this facility began in March 2016. In addition to providing the basic design of the facility and cultivation technologies, we purchase all of the crops and have developed a sales channel. We will continue to provide support for this facility to increase yields and improve the produce quality.
In addition, the cultivation area for tomatoes to be processed for tomato juice in Iwate Prefecture, Miyagi Prefecture, and Aomori Prefecture, which was 4.77 ha in FY2013, was expanded by approx. four times, to 20.17 ha in FY2014. We thus promote initiatives to create more juice tomato farms in the coastal and inland area by taking advantage of contract farming as our strength, which delivers value that we can share with local governments and local communities. With these initiatives, we aim to make social contributions, such as farmland preservation, utilization of abandoned farmland, and support for farm operation, while simultaneously increasing the use of juice tomatoes produced in Japan.
Further, we are a founder of the Agriculture, forestry and fisheries Fund corporation for Innovation, Value-chain and Expansion Japan (A-FIVE), which was established pursuant to the relevant law that came into effect in August 2012. As its founder, we make investments in A-FIVE and dispatch human resources to the fund corporation. Through A-FIVE, we will continue to support initiatives to further expand and advance the establishment of integrated supply chains of agricultural products, aiming for the development of agriculture in Japan as agriculture attracts global attention as a growth business.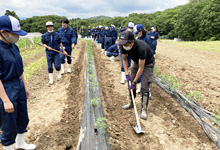 Development of Human Resources Who Will Lead Regional Revitalization
MICHINOKU Future Fund
In 2011, Kagome established the "MICHINOKU Future Fund" along with Calbee, Inc. and Rohto Pharmaceutical Co., Ltd., in order to commence activities that support orphaned children of the disaster in their dreams of continuing their education.
For children who lost their parents in the Great East Japan Earthquake, we call for donations from all over Japan and provide financial assistance for higher education, from enrollment to graduation. We pay higher education fees, including enrollment fee and full amount of tuition fee (with an annual limit of 3 million yen), with no requirement for repayment. In the next 25 years, we will continue to support children who were not yet born when the earthquake occurred, until they graduate from university (graduate school).
The MICHINOKU Future Fund supported 96 bereaved students in its first year in FY2012. Thereafter, it has supported about 100 students annually, with a cumulative total of 638 students as of 2017.
In March 2017, we hosted a gathering for the sixth class of scholarship students, bringing them together with the supporters. The sixth class of students who were beginning to receive further education presented their hopes and dreams for the future while 90 of their predecessors had graduated from universities, junior colleges, or vocational schools and were about to enter the real world.
The scholarship students have experienced traumatic events due to the disaster, but the MICHINOKU Future Fund has helped them to build close mutual ties and create a familial atmosphere. The fund focuses not only on financial support but also mental health care for the students. Therefore it provides them with follow-up support, including organizing events to promote friendship and interactions among them and annual interviews after they enroll in higher education.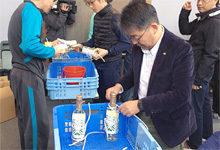 Fostering future farmers
At Kagome, we support education at agricultural high schools by teaching tomato cultivation to students. This initiative is aimed at fostering future farmers in Tohoku.
We began this initiative in FY2012 at two agricultural high schools in areas affected by the Great East Japan Earthquake. We distribute tomato seedlings for processing as educational materials and give classes for work experience with tomatoes, including outdoor and greenhouse cultivation, cooking and processing, and selling. Therefore, we provide students with opportunities to comprehensively learn about tomatoes, thereby helping future farmers, who will play the leading role in the reconstruction of Tohoku, to make their dreams come true.
In FY2016, we provided seedlings to eight schools in Fukushima Prefecture, Miyagi Prefecture, and Iwate Prefecture and gave classes for work experience at three schools.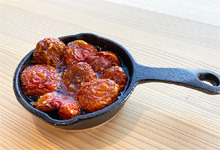 Helping People in the Affected Areas to Improve Their Mental and Physical Health
Fostering a spirit of mutual aid among the community
In 2012, Kagome began activities for dietary education assistance in disaster-affected areas in Tohoku using its dietary education curriculum. Our employees engage in these activities by traveling to the affected areas. They visit each community to help the local people, who are forced to lead inconvenient lives due to the prolonged impact of the earthquake, to improve their diet and to support the healthy growth of children.
Since FY2012, we annually distribute seedlings of Lylyco tomatoes for juice to elementary schools, nurseries, and kindergartens in Fukushima Prefecture, Miyagi Prefecture, and Iwate Prefecture. In FY2016, we gave a class to experience tomato cultivation at approx. 400 facilities. We also hold events as valuable activities for dietary education assistance, capitalizing on our strength in dietary education, with an aim to hold such events annually at 50 locations. They include Kagome Tomato Gekijo in Tohoku, a theatrical event for dietary education designed for the disaster affected areas in Tohoku. We created it by taking advantage of our experience with the Kagome Theater, which boasts 40 years of history. The events also include Tomato Kitchen Truck, where people can experience cooking tomatoes and other vegetables.
The staff for these activities consists of Kagome employees and local community members from Tohoku, creating job opportunities to people in the affected areas.