Philosophy and Framework for Product Safety and Security
Since its foundation, the bounty of nature has been an integral ingredient in Kagome's efforts to provide suggestions for a healthy and enjoyable diet. This approach is symbolized in our brand statement as our promise to customers: "True to Nature, the Flavor of Kagome."
We believe that to fulfill this commitment, it is most important to develop safe products that customers can use with a sense of security. To that end, we operate quality management systems (QMS) for the processes of raw ingredient procurement, R&D, production, and distribution in accordance with our Product Quality Policy.
Initiatives for Product Safety and Security
Product Quality Policy
Kagome QMS Cycle

Procuring Ingredients from Excellent Fields
Good ingredients come from excellent fields. Kagome's product development starts with the fields, with quality management based on its belief that "fields are the primary production plant."
At Kagome, we also procure raw ingredients from overseas locations by leveraging the ideas and experience that we have acquired since our foundation through contracted tomato cultivation in Japan.
Ingredient procurement at Kagome
Ingredient procurement at Kagome is supported by contract farming. For food and beverage manufacturers, cooperation from farmers is indispensable for obtaining safe ingredients. Cultivated over 100 years, contract farming is our procurement method. The vegetables we obtain from within Japan, including tomatoes, carrots, and petit vert, are mostly from our contract farmers.
Our contract farming is based on land area. Specifically, 1) we request cultivation by deciding in advance the crop variety, land area for cultivation, shipping standards, and other elements; 2) during cultivation, our employee in charge inspects each field directly, providing directions on appropriate cultivation methods including pesticide use, and; 3) we purchase all harvested crops. Contract farming makes it clear how crops were cultivated, allowing us to obtain safe and reliable raw ingredients.
Our supervision of contract farmers leads to deeper communication and that relationship of trust leads to the reliability of the ingredients. Our executive officers also interact with our contract farmers several times a year, further deepening the relationship.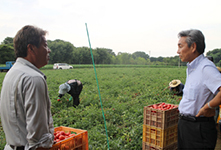 The overseas procurement of processed agricultural materials
Concerning processed agricultural materials we procure from overseas producers, we generally visit the suppliers' locations and inspect the quality management status for the processes, from cultivation to production.
For tomatoes in particular, we hold yearly meetings with suppliers before production season. With suppliers, we discuss issues throughout the entire production process from field to factory to enhance the quality of raw materials. For example, we investigate not only the processing procedures of harvested produce, but cultivation methods, such as the number of times pesticides are applied by contract farmers, as well as optimal fertilization methods. Moreover, we extract potential issues for the coming year from the season review at the end of the period to set targets that will allow us to continue growing together.
Major suppliers of ingredients of the Kagome Group (as of May 2017)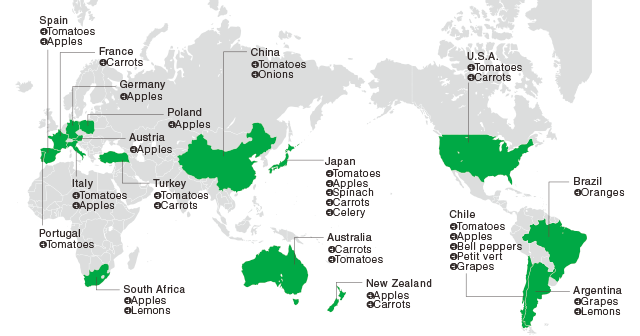 Safety Management from Farms to Final Products
Measures towards food defense
To prepare for the "intentional contamination of foodstuffs with foreign matter" in Japan, Kagome has established an internal management guide related to food defense, and ensures its thorough observance. In more concrete terms, aside from installing cameras and renewing the lock system in company factories, as well as revitalizing the communication among factory employees, we work as one with our partner factories in establishing a system in line with Kagome's management guide.
Safety management from farms to final products
Since our founding, we have been making concerted efforts at Kagome to deliver products that contribute to customers' wellbeing by taking advantage of nature's offerings. Since we deal with food products, we recognize that ensuring safety and security is indispensable. Therefore, we conduct a variety of inspections, analyses, and studies throughout the process, from farming to the completion of products.
Measures tackling radioactive materials
Immediately after the Fukushima Daiichi Nuclear Power Station Accident in 2011, public analysis institutions checked and carried out regular safety examinations on water used in factories, while Kagome checked and carried out the same for radioactive materials in raw materials and products procured and produced in Japan.
For tomatoes in particular, we carry out examinations during multiple stages, including on the soil of the field where crops are planted, immature fruit under cultivation, mature fruit before harvesting, and the fresh juice before packaging, all the while keeping a close eye on information on food origins, harvesting periods, as well as administration and monitoring.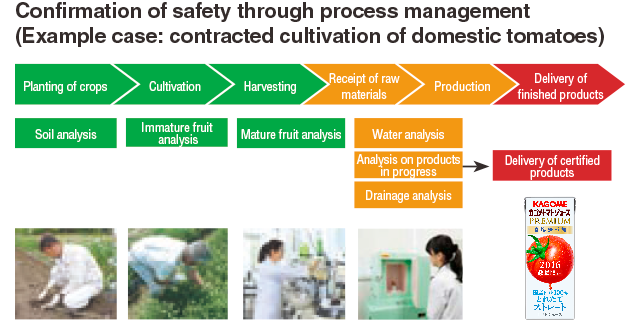 Measures in response to pesticide residues
Kagome carries out annual inspections of pesticide residues in raw materials to ensure safe consumption. Pesticide amounts have increased significantly since the "Positive List System for Agricultural Chemical Residues in Foods*" was issued in May 2006, and residual standards consequently became more stringent. While developing technology that enables the efficient analysis of multiple components, our analysis department has obtained the International Standard ISO17025, qualifying it as a capable organization for examinations and analyses.
We are working to further enhance the precision of our analyses. Furthermore, aside from analyzing pesticide residuals, the same department is also equipped with a system that analyzes and examines mycotoxins and bacteria that causes food poisoning, etc., ensuring the safety of raw materials procured domestically or overseas.
* The "Positive List System for Agricultural Chemical Residues in Foods" is a system that, in principle, prohibits that circulation of foodstuffs containing excessive levels of non-standardized pesticides.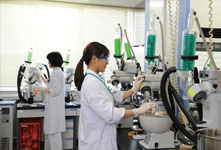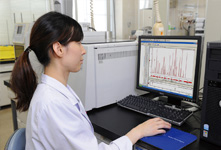 Research Department Initiatives
In October 2015, the research department of Kagome was separated from the development department and became the Innovation Division, to enable quicker creation of innovations. The core of this division is the research strategy department, which is aimed at linking research subjects and management subjects and revitalizing research and management. The division is active in promoting open research that involves internal and external parties. It also conducts the development of creative, innovative new products and research that leads to new businesses. Specifically, the division conducts a variety of research, including agricultural technology research, which is done by using tomato genetic resources, ingredients and processing technology research that uses enzymes, lactic acid technologies, and other technologies, and research related to evidence of functionality. The Innovation Division also works to advance our quality assurance technologies that ensure food safety.
Evidence-based research on health-promoting effects
In the field of nature and health research, the Innovation Division promotes functionality research with a focus on green and yellow vegetables and plant-based lactic acids, provides information on health, and submits notifications under the Foods with Function Claims system.
In recent years, the division also works on research to create new values through cooperation with external parties, in addition to internal research. In the Tomato Discoveries Lab, organized jointly with the graduate school of Kyoto University, the division has conducted an analysis of the components of tomatoes and an exploration of the anti-inflammatory components in tomatoes using big data analysis.
Further, under the Foods with Function Claims system, the division submitted a report based on the verification results of tomato juice's function to increase HDL cholesterol in the blood. The report was accepted by the Consumer Affairs Agency, which is why we offer tomato juice as a food with function claim.
Moving forward, the Innovation Division will continue to actively promote generic research that enables contributions to health improvements, based on evidence of health-promoting effects.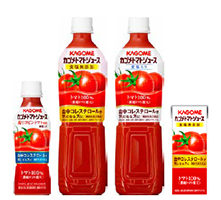 Developing useful new varieties by collecting and crossbreeding genetic resources
At Kagome, we store tomato genetic resources of approx. 7,500 varieties and have compiled a resource database. In the field of agricultural resource development, we work on the development of varieties that will make excellent ingredients, through traditional crossbreeding instead of genetic engineering, thereby taking full advantage of the genetic resources.
With crossbreeding, it may take many years to develop a practical variety. However, we promote steady, patient research activities to unlock the unlimited potential of tomatoes to offer safe, delicious products to customers.
Other initiatives include the selection of the most appropriate areas for maximizing the functions of newly-developed varieties and establishment of labor-saving cultivation techniques. Efforts are also made to select appropriate agrochemicals for obtaining safe, secure ingredients and to establish cultivation techniques that help plants resist diseases and pests with minimum use of agrochemicals.
In the field of agricultural resource development, we have applied for the registration of 10 total varieties, including a fresh tomato variety with disease resistant properties. In addition, we have improved varieties in the expanding fresh produce business, which has led to the improved value of fresh tomatoes. We are also enhancing research in the field of vegetables, aiming to achieve our long-term management vision.
Improvement of Processing Technology for Maximizing the Benefits of Ingredients
Non-thermal processing technologies for preserving the benefits of natural ingredients include reverse osmosis (RO) concentration technology, which enables the making of high-quality concentrated tomato juice without diminishing the natural red color and flavor components of tomatoes and without applying extra heat. They also include the Fresh Squeeze method and Vegetable Refining method, which enables juice to be squeezed from carrots without losing their natural sweetness and carotene, while reducing the distinctive taste and smell of carrots.
We also boast component conversion technologies that extract the potential benefits of ingredients. They include a slow-maturing technology for sauces, which combines fermentation technology for obtaining new flavors using enzymes and microorganisms, while preserving the original flavors of vegetables and fruits, with a maturing process for balancing the flavors.
In recent years, we have been actively combining our original technologies with ones of other companies in our efforts to create new values.
Through these efforts to develop technologies that maximize the natural flavors and nutrients of raw ingredients, we at Kagome create healthy, delicious products.
Improvement of Quality Assurance Technologies for Food Safety
To support the businesses of the Kagome Group, we have been working to strengthen our basic technologies to assure safety consistently, starting from fields. For fresh vegetables and beverages, which are growth fields, we endeavor to improve our technologies for controlling microorganisms.
Standards, Rules, and Action Guidelines on Production and Logistics
In 2003, Kagome acquired ISO 9001 certification for the process from design and development to procurement, production, logistics, and sales. Since then, we have been making company-wide efforts to improve our quality management. With regard to production, we implement the following quality management activities at all plants based on the Hazard Analysis Critical Control Point (HACCP)* systems.
• Establishing sterile conditions on a scientific basis by analyzing food quality
• Assessing raw ingredients' hazards using the New Ingredients Evaluation Sheet
• Formulating standards for managing and inspecting production processes in the Manufacturing Standard Procedures
• Stipulating rules on protection from insects, workers' hygiene (including hand-washing and disinfection), and sanitation areas in the Hygiene Management Standard Procedures
• Recording control and inspection procedures for each production process in the QC chart
Based on our belief that product quality is determined at production sites, we established Action Guidelines for production sites in 2005 to ensure that our employees engaged in production prioritize quality in their daily activities. In FY2008, we commenced new management initiatives to assess quality assurance processes, with which activities based on the Action Guidelines become on-site achievements in our further efforts to ensure that the quality-first principle is followed.
*HACCP: A method of intensive hygiene control, with which predictable biological, chemical, and physical hazards to food safety during the production process, from arrival of food ingredients to production and shipment, are analyzed and important preventive management steps are set in accordance with the results of the analysis.