Long-term Vision
by 2025

Transforming from a "tomato company" to a "vegetable company"
● To become a unique entity that deals with vegetables across a variety of food ingredients, categories, temperature zones, containers, and volumes
● To become a company that provides not only products but services as well, by expanding its business concept from tomatoes to vegetables
by around 2040

50% of the workforce consisting of women from employees to executive officers
● To promote business activities incorporating a wide range of views, catering to diverse consumer needs
● To become a strong company where employees of any gender can work enthusiastically, thus achieving high productivity
Kagome's Capabilities for Achieving Sustainable Growth
Kagome has established the long-term vision of transforming from a "tomato company" to a "vegetable company" by 2025. By supplying not only tomatoes but a diverse range of other vegetables in various forms, we hope to contribute to longer, healthier lives by increasing vegetable consumption.
In order to fulfill its 2025 Vision to "become a 'strong company' capable of sustainable growth, using food as a means of resolving social issues," it is necessary for Kagome to transform from a "tomato company"intoa "vegetable company."
Domestic Business
Kagome will provide a diverse range of vegetables in different formats to a wide range of markets through various processing methods, thereby enhancing its proposals for consuming vegetable-based dishes. This requires capabilities for delivering vegetable solutions and creating demand. By refining the extensive range of vegetable-related knowledge and technical skills that we have accumulated and changing ourselves, we will continue to greatly expand the range of areas in which we can contribute to resolving social issues and to engage in new challenges.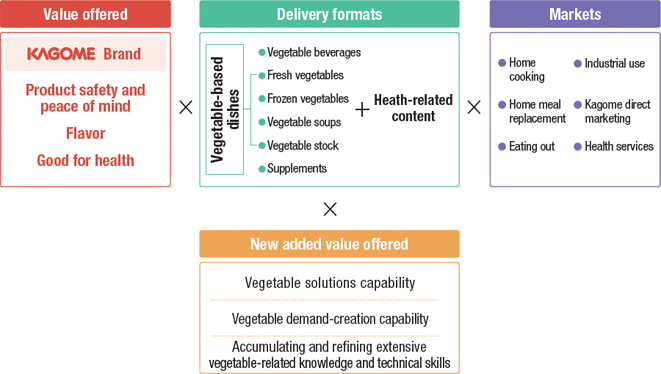 International Business
Through the vertically integrated business model of tomatoes for processing, in which it engages in all stages of the business from seeds to secondary processing, Kagome facilitates healthy dietary lifestyles in the countries and regions where it operates, and contributes to resolving global food shortages and other food problems. We will also create new demand by conducting B-to-C vegetable beverage business operations in Asia, and developing and introducing exclusive products to match local tastes.