Policy for Earnings Distributions
The Company recognizes shareholder returns as one of the most important issues in management.
The Company's shareholder return policy is to aim for a total return ratio of 40% and stable cash distribution of at least 35 yen per share each year based on the consolidated financial results under the three-year mid-term management plan implemented from 2019 to 2021.
With respect to dividends for the current fiscal year, the Company decided to pay a total dividend of 37 yen per share.
In addition, the Company plans to pay a dividend of 38 yen per share in the next fiscal year. This is due to the Company's policy on shareholder returns which calls for a total return ratio of 40% based on consolidated performance metrics during the four-year Mid-Term Management Plan spanning from 2022 to 2025. It also states that the Company is to provide a stable annual cash dividend of at least 38 yen per share.
Dividend per share
The 2018 year-end dividend is the sum of an ordinary dividend of 30 yen and a commemorative dividend of 10 yen.
Shareholder Benefits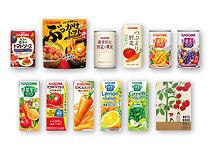 Starting in 2019, qualified shareholders who have owned Kagome shares continuously for at least six months receive a collection of Kagome products once every year.
Click here for more information about shareholder benefits.
Purchases of treasury shares in 2021
(1) Purchases authorized by shareholder resolutions
(2) Purchases authorized by Board of Directors resolutions
(3) Purchases for other reasons
(4) Use of treasury shares and ownership of treasury shares
Stock sold/distributed to
third parties
Stock involving mergers,
exchanges of shares and divestitures
Others
(exercise of stock options)