Basic Approach to Employee Development
Kagome recognizes that the growth of individual employees and the development of the company are strongly linked. Based on this recognition, we maintain systems that elicit their abilities to the fullest and place the right person in the right position while listening to the opinions of our employees. We also work to foster a corporate culture that encourages an abundance of individual initiatives.
As part of these efforts, we promote our Independent Career Plan to help employees develop themselves at their own initiative.
Manpower Cultivation Policy
We implement customizable human resource development that involves the effective monitoring of individual employees' strengths and weaknesses and gives due weight to their capabilities and aspirations. We implement this by taking stock of individuals' capabilities and the extent to which these capabilities are being utilized, by increasing opportunities for the assessment of individual capability development, and by putting in place initiatives for human resource development that integrate the evaluation system with employee assignment.
The aim of these measures is to create a large group of human resources who are capable of competing effectively in the marketplace. This means a large number of human resources who have: willingness to work hard to achieve self-actualization and contribute to Kagome's growth by selecting what to learn based on their own preferences and responsibilities; capabilities combining a high level of business literacy (in light of contemporary norms) and expertise and general business skills that Kagome employees are expected to have; and a spirit with which they obtain deep knowledge of Kagome (love Kagome) and maintain an open-minded attitude to both internal and external people.
Independent Career Planning
Kagome respects its employees' autonomy according to which they think and act independently. We have introduced an array of systems that help each employee to achieve their future vision.
Systems for Helping Employees to Achieve Their Future Visions
- Self-Reporting System (for all employees)

This is a personnel training system in which medium- and long-term career plans and skills development initiatives are shared between supervisors and subordinates and made use of for human resource development.

- Career Choice System/Internal Recruitment System (for applicants)

These systems have been introduced to provide employees who are interested in new challenges with more opportunities to try to assume their desired positions.

- "A La Carte-Style" Education and Training

"A la carte-style" education and training support the development of capabilities and skills that suit the needs of each employee.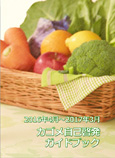 Capability Improvement through Education and Training
Kagome attaches great importance to the idea of having respect for people. This is reflected in our human resources development measures that are aimed at providing opportunities for the growth of individual employees.
- We provide our employees with assessment opportunities, which help individual employees to take stock of their capabilities and the extent to which they utilize these capabilities effectively from an external, objective point of view, thereby contributing to effective capability development.
- We organize optional, voluntary business skills training courses that are open to employees of all grades. We have therefore created an environment that permits voluntary learning.
- We provide young employees in their first to third year at the company with opportunities to receive group training, reflecting our recognition of the need to create a base for voluntary learning for such employees.
- Training programs for specific job categories are designed and implemented by business units (including sales, production/procurement, and R&D units) to help employees acquire specialist skills.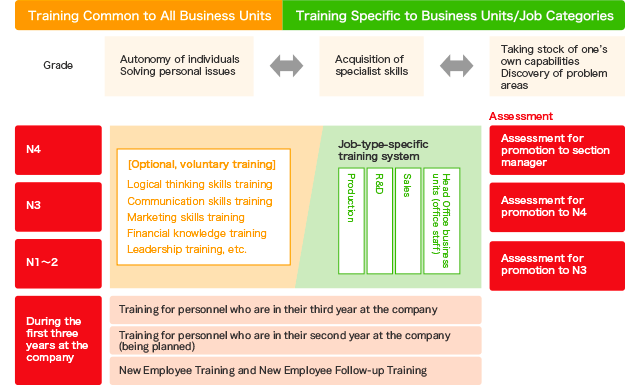 Kagome supports the acquisition of knowledge and the improvement of skills through a broad range of training programs, notably New Employee Training and Future Life Plan Training for Employees in Their 50s.
Training Provided to All Employees
- New Employee Training

This training is held at each business unit for a specific period to provide new employees with opportunities to experience all the operations of the company.

- Future Life Plan Training for Employees in Their 50s

This program helps employees in their 50s to formulate their future life plans.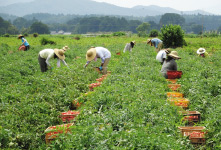 Career Counselling
To help employees achieve the career plans they have formulated on their own, we have introduced a system under which formally qualified career counsellors provide employees with career counselling, with the Personnel Department serving as the contact office. These counsellors provide employees with consultations on career development and the determination of a career path and help them solve their personal problems, thereby helping them to achieve the right balance between contribution to the company and their own motivation and leading them to find their own solutions.
Honoring Employees
Kagome works to maintain and increase employee motivation through various award programs for honoring employees.
In FY2015, we introduced the President's Award as a new award program. This award is granted to teams and groups, as well as individuals, which have implemented remarkable initiatives or made outstanding achievements.
Major Employee Award Programs
- Length of Service Awards (10, 20, and 30 years)

These awards are granted to employees every ten years after they join the company in recognition of the length of their service.

- Invention Awards

These awards are granted for inventions, improvements, innovations, or ideas that are beneficial to operations.

- Special Awards

This award program honors employees with good conduct, technological excellence, and occupational passion who act as good role models for other employees. It also honors employees who have taken distinguished actions to prevent or handle accidents.

- President's Award

Innovative, progressive initiatives and achievements by an individual, team, or group that have resulted from admirable challenges are announced internally and granted this award.
Fair Assessment and Equitable Treatment
By encouraging employees to develop a sound competitive mindset and strengthening their motivation, we are working to build an evaluation system linked to a corporate culture in which efforts are rewarded. At Kagome, we have introduced a goal management system for all employees. With this framework, individual employees are given clear, concrete goals that are linked to the objectives of the organization as a whole to facilitate the achievement of Kagome's business plan. Employees and their superiors have goal-setting sessions, progress-monitoring sessions, and sessions for identifying problems and checking the level of achievement, thereby reviewing past work achievements and processes and seeking to identify key operational issues and human resource development issues for the coming fiscal year. The approach and the implementation methods are described in detail in Kagome's Personnel System Handbook, which is available for viewing by all employees on the Kagome corporate intranet.
A 360-degree Monitoring System
We implement 360-degree monitoring of managerial employees. Their daily management operations are evaluated in a multi-faceted manner by their superiors and subordinates as well as by themselves. Where a perception gap exists between the manager and any other personnel, feedback is provided, and consideration is also given to issues related to the development of subordinates. In FY2016, we renewed the contents of this system to make it globally applicable and comparable with general standards. We will use this system for future succession plans.
Questionnaire Survey about Evaluations
We conduct a biannual questionnaire survey to discover how the personnel evaluation system is operated as an integral part of its implementation. At Kagome, we believe that the implementation of proper evaluation procedures, including discussion sessions and interviews, makes the results of evaluation more convincing and enables us to realize human resource development as the fundamental goal. We therefore conduct this fact-finding survey of all employees to check whether the personnel evaluation system is functioning properly so as to make the necessary improvements. It is conducted when the evaluation for the previous fiscal year has been finalized and when the goals for the current fiscal year are set. Specifically, the survey includes questions about the presence or absence of discussion sessions and interviews, and one question asking how convinced the subjects are about their evaluations. The results of this survey are announced to and shared by all employees via an official notice.