Creating a Safe and Comfortable Work Environment
To maintain its competitive edge, a company must create an environment where employees can work with good health, peace of mind, and vitality.
At Kagome, we endeavor to create a safe, comfortable work environment. Measures for this purpose include collaborations with our management partner Kagome Roudou Kumiai (KRK/Kagome Labor Union) related to the occupational safety and health management system and measures related to the prevention of overwork, such as health checkups and mental health care.
Our Central Labor Management Council meets twice a year, while each KRK branch holds a labor management council meeting at least once a quarter.
Prevention of Overwork
Kagome strives to prevent overwork so that its employees can continue working in good health and with the appropriate balance between work and personal life while improving their productivity.
In 2017, we established common companywide rules on scheduler registration methods, and from 2019, we revamped our employee attendance system and abolished the offsite deemed working hour system in an effort to better visualize the working hours of each employee.
Powered by this evolution in labor management practices, we are actively working to achieve work style reforms.
Average Monthly Overtime Hours Worked by Kagome Employees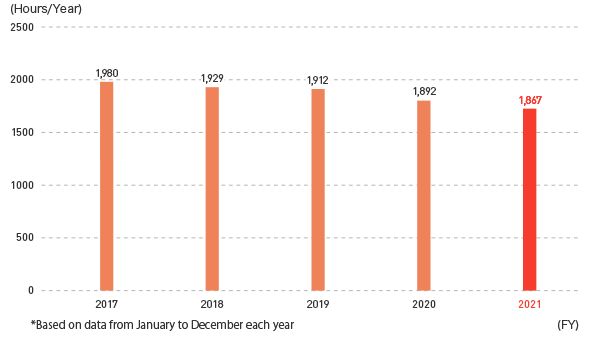 *The average monthly overtime hours worked for 2021 was 12.8 hours.
Rate of taking annual paid leave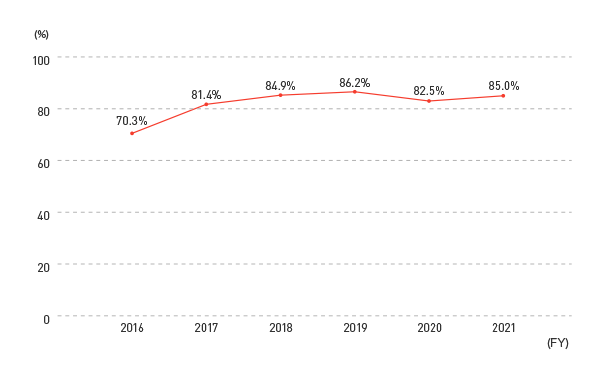 Health Maintenance and Mental Health Care
Kagome believes that a company cannot remain sound unless its employees maintain good health. Based on this belief, we implement regular health checkups, dental checkups, and influenza vaccinations every year for all employees. We also encourage employees aged 30 or older and their spouses to undergo thorough physical examinations, and provide support for receiving them.
In addition, Kagome Group companies in Japan are proactive in taking initiatives for mental health care. We have established a contact desk for mental health care at all business sites in Japan, and have a system in place for the early detection of mental health issues and that provides accessible counseling services.
In addition, every year we hold mental health training for all new hires and employees in managerial positions.
Public health nurses make the rounds of all business sites by cooperating with the contact desks. During these rounds, they work with industrial physicians at each business site to conduct interviews of employees so as to ensure that people experiencing both physical and mental health problems are discovered early and allow employees to seek counseling without hesitation.
Harassment Countermeasures
At Kagome, we are working to prevent harassment, having established the provision in the Kagome Group Code of Conduct that states, "We nourish a corporate culture that prevents and stops all forms of harassment, both inside and outside our company. We never look the other way." If an employee suffers harassment in the workplace or witnesses it, they can report it to their supervisor or consult with a number of internal and external contact points, including the compliance hotline, an offsite industrial counselor, or the Human Resources Department.
Main Harassment Prevention Measures
1) Explicitly cover harassment in the Code of Conduct and inform employees using posters, cards, and the company's website, etc.
2) Conduct the harassment survey to stop and never condone harassment (annually)
3) Prepare guidelines on the elimination of harassment and case study compilation and read these aloud in each workplace (updated annually)
4) Develop reporting and counseling route (survey, compliance hotline inside and outside the company, etc.)
5) Provide training to newly appointed managers
Initiatives for Transport Safety
Kagome implements a number of transport safety initiatives to eliminate the risk of traffic accidents, which can change the lives of employees, their family members, and other people tragically in an instant.
All Kagome vehicles are equipped with in-car devices that record driving data and video footage inside and outside the vehicle. To prevent young employees from causing accidents and stop the recurrence of accidents caused by them, we provide new hires with a driving aptitude test before joining the company, hold driver training on two to four occasions based on their skill level, three days of group driver training including field work after joining the company, and at least ten days of ride-along driver training at each department to which they are appointed, and also take other measures.
Labor Relations
Kagome holds regular labor management meetings with the company's labor union, the KRK, and arranges presentations for discussing the company's business performance. Salary arrangements, revisions to the personnel system, and other measures are implemented after consultation between labor and management and based on a consensus reached between them. As of June 30, 2022, a total of 1,026 permanent employees (excluding directors and managers) are members of the KRK.
Major Labor Management Meetings
- Central Labor Management Council meeting (held twice a year)

In FY2021, deliberations made at this meeting focused on growth measures to improve employee engagement, and on future approaches based on increases made in labor productivity to date.

- Sessions for presentations on quarterly financial results for the first, second, and third quarters (held three times a year)

These sessions provide an opportunity to confirm matters related to quarterly results and exchange views on issues and measures for the coming quarters.

- Branch Labor Management Council meeting (held at least once per quarter*/every month at plants)

Improve and energize workplaces through dialogue between managers and labor union members
Response to COVID-19
We are implementing the following measures to stop the spread of COVID-19.
•Formulation and implementation of swift infection controls through the COVID-19 Task Force (Headed by President & Representative Director)
•Encouragement of telecommuting
•Hygiene controls on office floors (make hand sanitizer available, install partitions for stopping the airborne droplet spread, and consistent mask wearing, etc.)
•Provision of special leave to employees for receiving COVID-19 vaccinations and in case of vaccination side effects
etc.