Creating a Safe and Comfortable Work Environment
To maintain its competitive edge, a company must create an environment where employees can work with good health, peace of mind, and vitality.
At Kagome, we endeavor to create a safe, comfortable work environment. Measures for this purpose include collaborations with our management partner Kagome Roudou Kumiai (KRK/Kagome Labor Union) related to occupational safety and the health management system and measures related to the prevention of overwork, such as health checkups and mental health care.
In addition, our Central Labor Management Council meets twice a year, while each KRK branch holds a labor management council meeting at least once a quarter.
Prevention of Overwork
Kagome strives to enable its employees to continue working in good health and with the appropriate balance between work and life (between work and family life) while improving their productivity. As part of these efforts, we raise awareness of managerial employees during managerial training, manage overtime hours, and keep track of the operational status of each employee's computer to prevent overwork.
In September 2008, we introduced a new employee attendance system to manage weekly working hours with the aim of preventing long working hours.
In addition, starting from May 2014, we have been promoting workstyle reform by prohibiting overtime work after 8:00 p.m., in principle.
Average Monthly Overtime Hours Worked by Kagome Employees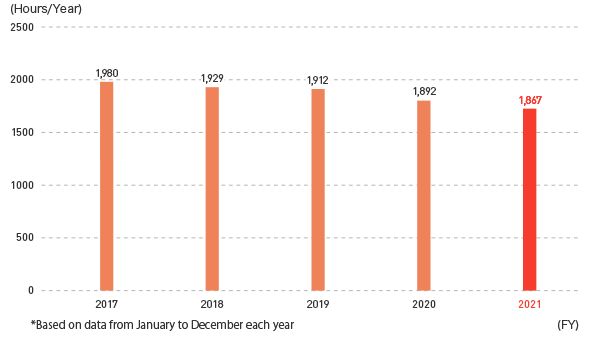 Health Maintenance and Mental Health Care
Kagome believes that a company cannot remain sound unless its employees maintain good health. Based on this belief, we implement regular health checkups, dental checkups, and influenza vaccinations every year. We also encourage employees aged 30 or older and their spouses to undergo thorough physical examinations, and provide support for receiving them.
In addition, Kagome Group companies in Japan are proactive in taking initiatives for mental health care. We have established a contact office for mental health care at all business sites in Japan, and our industrial counselors do the rounds of all business sites every year by cooperating with the contact offices. During these rounds, the industrial counselors conduct monitoring of each business site, compile data on its current conditions, provide information to the office in charge of health management at the Head Office, help employees return to work, provide support for employees who have returned to work, and take other measures. They therefore strive to ensure that people experiencing health problems are discovered early and allow employees to seek counselling without hesitation.
In addition, training related to mental health is provided every year to new employees and newly appointed managers.
Sexual Harassment Helpline
Kagome aims to be a company where all employees can work energetically. As a measure for achieving this goal, we have established an external contact office called the Sexual Harassment Helpline. This office accepts consultations related to sexual harassment. Employees can also consult this office about harassment related to pregnancy, childbirth, child care, nursing care leave, and other issues, as well as regarding their mental health.
Measures for Ensuring Transport Safety
Kagome implements a number of transport safety measures to reduce the risk of road accidents, which can change the lives of employees, their family members, and other people tragically in an instant.
All Kagome vehicles are equipped with in-car devices that record driving data and video footage inside and outside the car. In addition, to prevent young employees from causing accidents and prevent the recurrence of accidents caused by such employees, we provide them with driving training on two occasions before they join the company, group training when they join the company, at least ten days of on-the-job driving training at each department to which they are appointed, and also take other measures.
Labor Relations
Kagome holds regular labor management meetings with the company's labor union - the KRK - and arranges presentations for discussing the company's business performance.
Salary arrangements, revisions to the personnel system, and similar measures are implemented after consultation between labor and management and based on a consensus reached between them.
As of May 31, 2017, a total of 1,044 regular employees (excluding directors and managers) are members of the KRK.
Major Labor Management Meetings
- Central Labor Management Council meeting (held twice a year)

In FY2016, deliberations made at this meeting focused on the details of Kagome's financial results, workstyle reform aimed at improving workplace environments, better ways of operating the evaluation system, and support for human resources development, among other agenda items.

- Sessions for presentations on quarterly financial results for the first, second, and third quarters (held three times a year)

These sessions provide an opportunity to confirm matters related to quarterly results and exchange views on issues and measures for the coming quarters.

- Branch Labor Management Council meeting (held at least once per quarter/ every month at a plant)

At this meeting, managers and union members hold dialogues to improve and revitalize their workplaces.