Biodiversity Policy
Since its establishment, Kagome has developed its business based on agriculture using the nature's bounty. Agriculture not only helps nurture nature's bounty, but also gives rise to a diverse environment within the farmland, which provides habitat to diverse species. The nature of farmland and forests produced from agriculture brings a wide range of benefits to people in society, including a better environment and spiritual culture. In other words, the biodiversity of farmland plays an important role in supporting people's health and prosperity.
However, since the 20th century, the rapidly growing human activities have gone beyond the planet's tolerance level. This has drastically reduced biodiversity of the land and in the sea, as well as nature's bounty generated from both. At the same time, the number of farmers is dwindling while dilapidated farmland is increasing, with the diverse environment created by agricultural activities about to be lost in Japan.
Given this background, we will continue working to increase biodiversity under various scenarios within our business activities at Kagome. We have established the Biodiversity Policy based on the Kagome Quality and Environmental Policy with the hope of achieving sustainable growth into the future by leveraging business activities rooted in nature's bounty,*1 and we are now actively making efforts under this policy.
Kagome Group's Biodiversity Policy
Conservation activities in the supply chain
1. Maintenance and utilization of genetic resources
Take conservation measures to ensure the genetic diversity of tomatoes and vegetables. Appropriately use the genetic resources that have been preserved by each country by observing international and each country's laws and regulations.
2. Reduction of agriculture's environmental impacts
Minimize environmental impacts of agriculture. Minimize the effect of new farmland development and consolidation, as well as switch from chemical substances that pose high risks on biodiversity to alternative materials following the precautionary principle.
3. Ecosystem conservation around farmland
Recognize that the ecosystem surrounding farmland and forest is providing ecosystem services*2 to the agricultural production with its rich soil and water, and organisms that are natural enemies of pests. Enhance the sustainability of ecosystem services by conserving biodiversity of farmland ecosystems and their surroundings.
4. Reduction of procurement's environmental impacts
Avoid the use of raw materials produced via illegal means or with large impacts on the environment to reduce food origin's impacts on biodiversity.
5. Considerations during transportation
Recognize issues such as ecosystem disturbance due to invasive alien species and choose transportation methods that are considerate of the ecosystem.
6. Reduction of plants' environmental impacts
Aim to minimize the environmental impacts caused by plant operations and to sustainably use ecosystem services such as groundwater that support production.
7. Considerations for products and services
Strive to provide options for sustainable consumption by offering products and services with little impact on biodiversity and contribute to their conservation.
Collaboration with internal and external partners
8. Penetration internally and externally
With all employees recognizing our business is founded upon the support of nature's bounty, promote considerations for biodiversity within our businesses. Conduct initiatives to promote understanding towards biodiversity among citizens.
9. Dialogue with outside parties
Enhance the quality of activities through dialogue and collaboration with stakeholders, including consumers, local residents, NPO, shareholders, experts, etc.
10. Information disclosure
Widely disseminate information on our biodiversity conservation initiatives and obtain external opinions as feedback to activities.
11. Social contributions
Recognize biodiversity as a task to consider not only for within our business sites, including farmlands and plants, but also from the perspective of its connection with the surrounding environment, and take proactive measures to address regional biodiversity conservation issues.
12. Response to fundamental issues
Implement measures not only to address direct factors that reduce biodiversity, but also socioeconomic factors such as the decline of agriculture in Japan.
*1) Kagome Group Quality and Environmental Policy (Article 3)
"We protect water, soil and air that nurture vegetables, maintain agriculture that fosters rich nature for the future, and effectively use the benefits acquired. "
*2) Ecosystem services: Benefits acquired from the ecosystem, which are categorized into the following services.
Provisioning services: Services that provide resources important to human life, including food, water, fuel and wood.
Regulating services: Services that regulate the environment such as regulation of climate and water, prevention of soil erosion, water purification, etc.
Cultural services: Services that provide spiritual satisfaction, aesthetic enjoyment, recreational opportunities, etc.
Supporting services: Support services for the provision of the three services above, such as oxygen production by plants, soil formation, and water circulation.
Promotion of Sustainable Agriculture in Japan
Promotion of Biodiversity-focused Farming in the Procurement of Processing Tomatoes
Based on its cultivation philosophy emphasizing safety, peace of mind, and environmental considerations, Kagome concludes contracts with farmers and provides contract farmers with comprehensive guidance from soil development to tomato cultivation with minimal use of agrochemicals and chemical fertilizers.
*Contract farming
Prior to the start of procurement of processing tomatoes domestically for products such as tomato juice, etc., we conclude a contract on terms such as quality standards, with our business partners. When procurement is based on a farming contract, we place an order for cultivation after confirming the area and price, and purchase all the harvested tomatoes that meet the standards.
Strict Guidelines for Agrochemical Use
At Kagome, while we do use essential agrochemicals, we follow our strict guidelines to ensure ecosystem preservation.
●We have established the Kagome Agrochemical Standard from a list of agrochemicals that may be used in tomato cultivation by taking productivity, consumers, growers, and the environment into consideration, and encourage cultivation of tomatoes by following this standard.
●We prioritize the use of agrochemicals that can be analyzed by applying Kagome's simultaneous analysis method.
●When staff members in charge of farms patrol farms, they check for disease and insect damage, promptly diagnose any they find, and provide guidance on the appropriate use of agrochemicals to minimize their use.
●We reduce the amount of agrochemicals we use by summarizing diseases and insect damage that occur each year and focusing our efforts on preventing disease and insect damage.
●By means of crop rotation that includes tomato cultivation, we promote maintenance of soil biodiversity to help avoid repeated cultivation failure and the occurrence of disease and insect damage.
●We confirm that the Kagome Agrochemical Standard is followed, by checking the record of use of agrochemicals and conducting in-house analyses of residual agrochemicals.
Strict Guidelines for Use of Fertilizers
●We encourage soil development with organic fertilizers, such as compost and green manure, thereby minimizing the use of chemical fertilizers.
●Kagome analyzes the soil of farms before beginning to grow tomatoes and provides guidance on fertilization planning based on the conditions of each farm. We then determine the optimal amount of fertilizers to be used for each farm through growth diagnosis of tomatoes made using their fruit and leaves. In this way, we prevent the excessive use of soil fertilizers.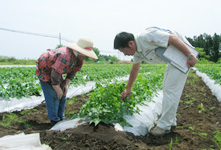 Fresh Tomato Procurement Using Farming Contracts
Prior to the start of procurement of processing tomatoes domestically for products such as tomato juice, etc., we conclude a contract on terms such as quality standards, with our business partners. When procurement is based on a farming contract, we place an order for cultivation after confirming the area and price, and purchase all the harvested tomatoes that meet the standards.
As Kagome provides seeds and seedlings, as well as instructions on cultivation methods to ensure steady harvesting of crops, farmers can achieve management stability through tomato cultivation.
The biodiversity of farmland is derived from the maintenance and management of the land. We strive to reduce the number of dilapidated farmland and maintain farmland with a rich ecosystem through continued cultivation of tomatoes.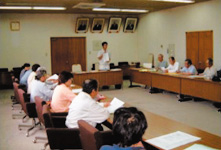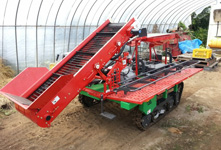 Measures for Aging Growers of Processing Tomatoes
A major issue in the procurement of domestically grown processing tomatoes is the aging grower population. There are many growers who have been farming for 30 to 40 years and decide to quit due to a lack of successors. The main reason being the harvest period is around late July to mid-August, which is the hottest time of the year, where manual harvesting of tomatoes by hand is a severe burden. Together with an agricultural machinery manufacturer, Kagome developed the Kagome Tomato Harvester (KTH), a specialized harvester for processing tomatoes, over a period of six years. The operating efficiency of KTH is about three times higher than manual labor and it is capable of harvesting 1.8 tons per person per day. In 2017, we outsourced the operation and transportation of harvesters to tomato transporters and introduced a dispatch program that sends out a KTH with an operator as a pilot project in Ibaraki Prefecture. The program continues today and is being expanded.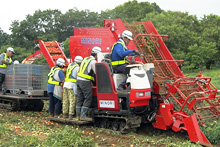 Biodiversity Survey at Farms and Surrounding Areas
Kagome believes that managing farmland appropriately while maintaining the biodiversity of the land is important for protecting living organisms and the environment in a sustainable manner through business.
In July 2018 and July 2019, Kagome conducted biodiversity surveys on an open-field tomato farm and surrounding areas in Ibaraki Prefecture. The result showed that within a 100-meter radius of the tomato farm, there were around 150 insect species, and the more diverse the plant species in the grassland, the greater the variety of insects and birds. The number and variety of coleoptera (beneficial insects) on the ground was found to have increased in the tomato field where the straws are laid in the furrows, and it has become clear that it is possible to increase the number of insects capable of exterminating tomato pests. The biodiversity survey of farms and their surrounding areas has been relocated to the Kagome Yasai Seikatsu Farm Fujimi (Fujimi Town, Suwa District, Nagano Prefecture), and these surveys continue to be conducted.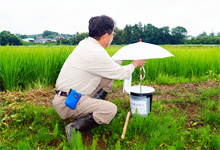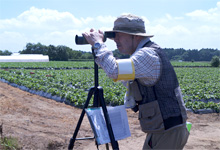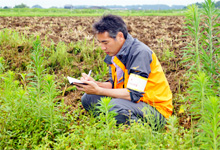 Establishment and Opening of Farms in Symbiosis with Living Organisms
In order to materialize sustainable farming, Kagome has established a Farm in Symbiosis with Living Organisms on a 1.2-hectare field adjacent to Kagome Yasai Seikatsu Farm Fujimi and opened it to the public in July 2020. This farm is designed with features that enable diverse living things to thrive in its vicinity, and invites organisms such as natural predators that are beneficial to agriculture to the farm. It is set up to harness the power of nature in agriculture.
In addition, the farm has incorporated a quiz contest for visitors to learn about its systems and encourage hands-on learning and appreciation for living things, while enjoying their visit.
At the farm, we conduct monitoring surveys of biodiversity and utilize the findings to improve and add to our various mechanisms in order to establish an agricultural style in symbiosis with living organisms. We also undertake initiatives to promote this method to farmers and enhance understanding towards biodiversity among as many people as possible.
Kagome is cooperating with various Japanese government ministries and agencies for the promotion of biodiversity conservation. As part of this, the above initiative appeared in "Compilation of Biodiversity Initiatives in the Areas of Agriculture, Forestry and Fisheries" published by the Ministry of Agriculture, Forestry and Fisheries, and we organized a presentation at the Ministry of the Environment's Biodiversity Symposium in December 2021.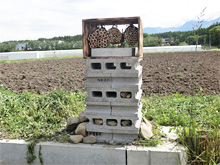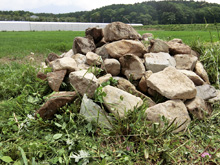 Opinion from an Expert
The situation surrounding companies and biodiversity is undergoing significant changes.
Various initiatives including the Task Force on Nature-related Financial Disclosures (TNFD) are being implemented to encourage the transformation of businesses aimed at resolving environmental issues. The aim of these is a nature positive future. Simply reducing negative impacts on nature will not stop the decline in biodiversity. Companies will be required to increase the sustainability of society and the economy by restoring/revitalizing biodiversity and enhancing ecosystem services.
At Kagome Yasai Seikatsu Farm Fujimi, Kagome is working to create a farm in symbiosis with living organisms. This initiative involves reducing the use of chemical pesticides by improving the habitat for native natural predators so that they can be used for pest eradication; thereby, increasing the biodiversity of the area around the farm. This business model embodies the idea of nature positive as well as Kagome's corporate philosophy.
For Kagome to become a truly nature positive company, it will need to work with farmers around the world who produce the vegetables it sources to promote this farming in symbiosis with living organisms. Going forward, Kagome will need to further expand these activities so that it becomes a company that can increase the sustainability of its own operations and society as a whole by increasing and utilizing biodiversity through the farming business across the entire supply chain.
Tetsuya Kitazawa, Director, Ecology Path Inc.
Initiatives for Agricultural Revitalization Across Japan
Promoting Agricultural Development Using Agreements with Local Governments
Kagome has concluded agreements with local governments throughout Japan as part of a "locally grown, nationally consumed" activities started in 2010 where local specialty items and seasonal produce from across Japan are delivered nationwide as Kagome brand products. As of March 31, 2021, Kagome had agreements in place with 17 prefectures, six cities and one town. In addition to using agricultural produce as raw ingredients, these agreements also include provision of relief goods during a disaster or agricultural and economic development. In this manner, Kagome engages in broad cooperation with local governments across Japan.
Using Vegetables and Fruits Grown Throughout Japan as Raw Ingredients in Vegetable Drinks
The Yasai Seikatsu 100 seasonal limited-time only series, which forms the heart of Kagome's "locally grown, nationally consumed" activities, where local agricultural produce is brought to consumers nationwide, today features more than 10 different products every year. Kagome will continue to support local agriculture and healthy longevity by tapping into new fruits and vegetables or new forms of collaboration.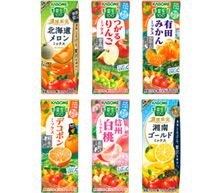 Revitalizing Local Agriculture through Cooperation between Producers and Consumers Nationwide
The Direct Marketing Business Department launched "Kagome Nouen Ouen" as a new business brand in October 2016 to complement our Kenko Chokusobin direct marketing brand. "Kagome Nouen Ouen" involves capitalizing on the growing interest in regional foods and agriculture to support local farmers in passing on their agricultural produce with latent value encountered by Kagome across Japan to the next generation.
Since 2017, in terms of fruits and vegetables, we have marketed "Mizunoka" strawberries grown in Asahikawa City, Hokkaido Prefecture and "Shonai Sakyu Melon" grown in the Shonai district of Yamagata Prefecture, while for processed foods, we have sold "Yamagata Kawanishi Crimson Soybean" and "Hokkaido Yoichi Tomato Juice," among others.
In 2019, we expanded our lineup to nine products from nine regions with the launch of sales of "Kenjo Momo no Sato Tokushu Akatsuki," a peach grown in Date district, Fukushima Prefecture to support the reconstruction effort. These activities go beyond the sales of agricultural produce to include "interactive tours" in Kawanishi Town to increase the related population and "tomato planting and harvesting experience" in Yoichi Town for collaboration between agriculture and welfare. These ongoing activities were recognized with a Good Design Award two consecutive years and they were featured on the Ministry of Agriculture, Forestry and Fisheries (MAFF) website in December 2020.
"Kagome Nouen Ouen" contributes to the revitalization of local agriculture and regional revitalization by promoting regions and connecting local producers with consumers through products made by Kagome using agricultural produce passionately grown by local producers and sold to consumers nationwide.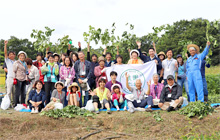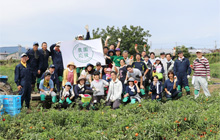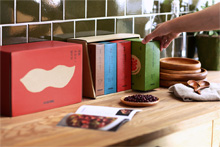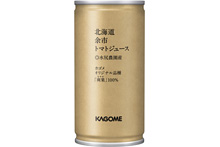 Promoting Sustainable Agriculture Overseas
Established Farm Company in Senegal for Processing Tomatoes
In December 2017, we established Kagome Senegal Sarl, a farm company that engages in the cultivation, sourcing and sales of tomatoes for processing in the Republic of Senegal in Africa. Tomatoes are a deeply rooted part of food culture in West Africa and annual tomato consumption per capita in Senegal is more than 20kg, which is over double that of Japan. However, the country has been unable to grow enough quality tomatoes due to such factors as a lack of resources, undeveloped cultivation technology, and disease and insect damage. Kagome Senegal Sarl will contribute to the development of the processing tomato industry in Senegal using the Kagome Group's seeds and agricultural technology resources such as cultivation technology.
R&D and Commercialization of Cultivation Technology for Processing Tomatoes Using AI and Remote Sensing Technology
Since March 2015, the Kagome Agri-Business Research and Development Center in Portugal has been developing cutting edge cultivation technology for processing tomatoes using AI and remote sensing technologies in a partnership with NEC Corporation of Japan. Specifically, the center is working on agricultural solutions that streamline farm operations and minimize environmental impacts. This work involves maximizing harvest yield using the least water, fertilizers, and pesticides possible for each farm based on tomato growth determined in real time using data obtained from various sensors installed at each farm for climate and soil, satellites, and AI that has learned agricultural management practices such as irrigation and manuring.
The user can understand the growth situation and stress distribution for the entire farm in real time from a tablet or smartphone as well as predict the harvest date, harvest amount, and risks such as weather or disease to obtain the right fertilizer and irrigation management method identified from the AI.
Real-life testing has already been conducted in various regions including Portugal, Spain, and Australia. In September 2022, we established a new company in Portugal called DXAS Agricultural Technology Lda to work toward the full-scale commercialization of services for businesses and farms growing tomatoes for processing.
Maintaining and Utilizing Genetic Resources of Vegetables
Kagome's Innovation Division stores the genetic resources of around 7,500 tomato varieties, making it among the largest of any private company anywhere in the world. The Innovation Division produces new useful varieties after collecting and crossbreeding tomato seeds with various genetic characteristics.
These seeds are stored at a fixed temperature and humidity, but they are replaced regularly because as time passes the germination rate decreases. In this manner, we maintain a bank of valuable genetic resources that is always replenished.
We reassess the characteristics of these genetic resources for use in the development of disease- and pest-resistant varieties (reducing the use of agrochemicals).
In addition, United Genetics Holdings LLC, which operates in eight countries including California in the United States, develops proprietary varieties of vegetables including tomatoes and supplies the seeds and seedlings to more than 80 countries around the world.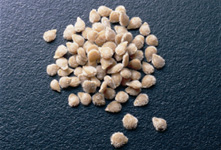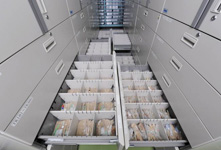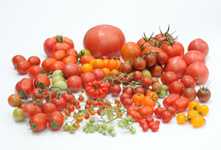 Pollinating Tomatoes in Greenhouses Free of Non-native Bee Species
Kagome began producing and selling fresh tomatoes in 1998.
Fresh tomatoes are cultivated in greenhouses, and since there is no wind in greenhouses, bees are used to pollinate tomatoes in most commercial greenhouses. Bees help the pollination process by shaking the flowers when they gather pollen which is a food source.
After finding that the buff-tailed bumblebee, a non-native species, is considered an invasive species that could harm native bee populations, Kagome switched to Bombus ignitus, native species of bumblebee, at its directly owned and operated commercial greenhouses in May 2004.
Initially, the breeding technique for this species of bumblebee had yet to be established and it was unclear if this would impact tomato quality or economic viability. Today, the technology is well-established enough to employ Bombus ignitus for the cultivation of tomatoes all over Japan.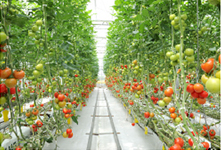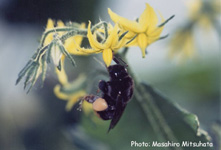 Acquiring RSPO Certification for Palm Oil
Palm oil production continues to increase with each passing year because of its low cost, high productivity and harvest throughout the year. Production areas, however, are facing a number of issues associated with this rapid increase in production, including deforestation of tropical rainforest for new plantation development and shrinking habitat for wildlife as a result. Moreover, palm oil is also subject to a number of labor issues lacking social fairness, such as poor working environment with little considerations toward worker health and safety, low wages, unfair treatment of immigrant workers, and child labor, due to improper plantation management. In an effort to resolve these issues, Kagome has become a member of the RSPO* and in 2019 Kagome Inc., our plant in the United States, obtained MB certification and in 2020 Kagome Japan received B&C certification. Kagome will continue working toward sustainable ingredient procurement.

*RSPO (Roundtable on Sustainable Palm Oil)
This international organization was established by the World Wildlife Fund (WWF), companies in Europe and North America, and the Malaysian Palm Oil Association, among others, in 2004. It certifies sustainable palm oil based on eight principles and 39 criteria for sustainable palm oil production.