Environmentally Friendly Products
Kagome Group is also committed to research and development on environmentally friendly products. This includes switching to product containers and packaging materials that have a low environmental impact, as well as establishing the cultivation method of fresh vegetable products.
Use of FSC®-certified Paper in Paper Beverage Packs
The Forest Stewardship Council®(FSC®) is an international organization that certifies forests that produce timber and the distribution and processing of timber harvested from those forests.
Customers are able to choose products (timber) manufactured without major environmental or social impacts, even for timber produced overseas, by choosing and purchasing products with the FSC logo, thereby indirectly supporting forest conservation around the world.
Kagome started using paper with the FSC logo for paper beverage packs in September 2014. As of 2020, all paper beverage packs of 200 ml and 300 ml bear the FSC logo.
In the future, we will continue to use FSC-certified paper in our paper beverage packs and contribute to a sustainable society through the supply and manufacture of sustainable resources.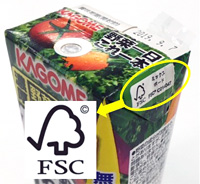 Use of Plant-derived Material in Paper Beverage Packs
Following the Kagome Policy on Plastics established in 2020, we switched the plastic cap and ring on paper beverage packs to 100% plant-derived materials (from sugar cane) starting in April 2020.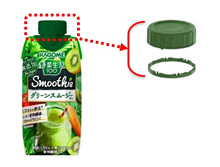 In addition, we are gradually switching plastic straws attached to paper beverage packs to straws made of 5% plant-derived materials since April 2020. We plan to gradually increase the ratio of plant-derived materials in our products going forward.
We released a seasonal limited edition of Yasai Seikatsu 100 with paper straw made from eco-friendly FSCR-certified paper* through the e-commerce page of our corporate website.
Target products
Yasai Seikatsu 100 Shinshu White Peach Mix, and others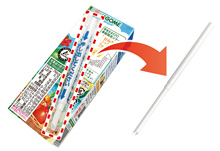 Use of Containers Printed with Green Power
Kagome uses paper containers printed with green power* for the home pack of its mainstay Yasai Seikatsu 100 series. We will continue implementing environmentally friendly initiatives with our partners going forward.
*Green power: Power generated using natural energy, such as wind power, solar power, biomass (biological resources), etc.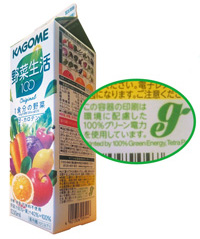 Expanding Use of Environmentally Friendly Paper Beverage Packs
Kagome is actively adopting the use of environmentally friendly paper beverage pack, Cartocan, in direct marketing products and gift sets. Cartocan is made up of more than 30% domestically sourced materials including thinned timber, which facilitates the processes from planting to cultivation and harvest, and leads to the protection of forests in Japan. In FY2020, this container comprised about 38% of gift set beverage product sales.
To promote recycling of this container after use, we have posted the recycling method on Kagome's corporate website.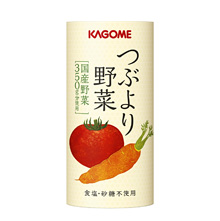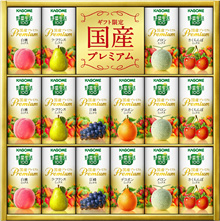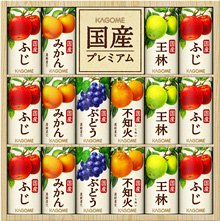 Sorting of Paper Containers after Use and Promoting Volume Reduction
We print a message to customers on our paper packaging that reads: "Thank you for folding this container." This promotes sorting of used paper containers and further reduces their volume by reducing their size.
This message was first printed on 200 ml containers in September 2008, and the practice has now been expanded to include 100 ml and 125 ml containers. This same initiative is being rolled out at other companies as well.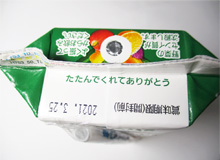 Feedback on Our Message of Gratitude
One day, after I finished drinking a drink in a small paper container that I always buy from the convenience store, I noticed the words, "Thank you for folding this container" after I had folded it. This message made me so happy. Such a phrase on a paper container that I always fold made me feel appreciated. Since then, I have started to notice the same phrase on larger paper containers and other companies' products, too. This makes me look forward to folding them.
There is also a cute picture of a carrot right next to the message once I flatten the container, which is lovely. I am excited to explore more of your company's products in the future.
Easy-to-recycle Packaging
Kagome has actively used cardboard for some time since this material has an established recycling system and maintains a high recycling rate. The lid of the package on some gift sets has been switched from fancy printed box to cardboard box, with folding instructions printed on the side of the package to encourage the material to be recycled once more at the time of disposal. In addition, the packaging for Special Shareholder Benefits has also been switched from fancy printed box to cardboard since FY2003.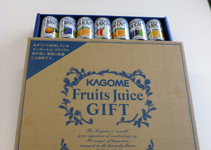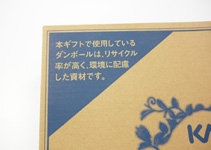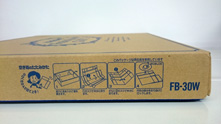 Use of Short-flap on Outer Cardboard
Since March 2021, we have been introducing short-flap cardboard boxes for 720 ml plastic bottled products for consumers and gradually expanding its use in order to effectively utilize paper resources and make opening easier.
Target products
Kagome Tomato Juice 720 ml
Yasai Seikatsu 100 Series Original 720 ml, others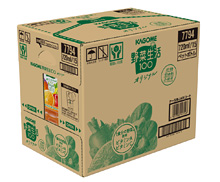 Fresh Tomato Cultivation with Reduced Environmental Impacts
Kagome grows tomatoes in commercial greenhouses in order to ensure stable supply of safe and delicious fresh tomatoes to markets year round. Many of these are grown in large greenhouses that use coco slabs (coconut husks) as the medium in nutriculure.
In addition, in order to reduce environmental impacts, we have implemented the following initiatives at commercial greenhouses under Kagome's direct management.
●Energy & CO2 Reduction

Heaters are used on the farm to maintain an appropriate temperature for growth. LP gas is used as the heating source because it is environmentally friendly. Also, the CO2 emitted during incineration is recovered and effectively reused in photosynthesis needed for tomato growth. Starting in 2020, Yatsugatake Mirai Farm located in Nagano Prefecture has been using the CO2 released from its adjacent Fujimi Plant for tomato photosynthesis.
Natural energy is effectively utilized at Hibikinada Farm, which receives a portion of its power from the large solar power plant built nearby.

●Water

We are utilizing rainwater and recycling culture media and nutrient solutions in order to make effective use of resources.

●Pesticide

In order to minimize the use of chemically synthesized pesticides, we conduct early preventive measures such as keeping insects out and monitoring the presence of insects on a daily basis, introducing natural predators of pests, using microbial control agents, and exterminating pests by using electrolyzed water, etc.

●Waste

The leaves and stems of cultivated tomatoes are fermented and recycled as fertilizer (Iwaki Onahama Farm). In addition, we also strive to recycle leaves produced during cultivation and slabs used in hydroponics by turning them into fertilizers or soil improvement at other farms.