Environmentally Friendly Products and Systems
The Kagome Group also focuses its efforts on research and development for the creation of environmentally-friendly products. Such efforts include switching to product containers and packaging materials that have a smaller environmental footprint and the establishment of eco-friendly cultivation methods for fresh vegetable products.
Use of FSC® Certified Paper Containers
The Forest Stewardship Council® (FSC®) is an international organization that manages programs to certify forests for the production of timber and distribution and processing of timber from such forests.
By selecting and purchasing products with an FSC label, including lumber produced overseas, consumers can choose products (lumber) that do not burden the environment or society, indirectly contributing to the protection of forests worldwide.
At Kagome, we released Yasai Seikatsu 100 ORGANIC with Organic Vegetables and Fruits in September 2014, a beverage that uses an FSCR certified paper container. We introduced FSCR certified paper containers for Yasai Ichinichi Kore Ippon, one of our mainstay products, in March 2015, and for Yasai Seikatsu 100 Series Leaf Pack and Yasai Ichinichi Kore Ippon Leaf Pack in October 2015.
Moving forward, we will use FSCR certified paper packages for a wider range of our products. By using sustainable resources in our production and products, we contribute to achieving a sustainable society.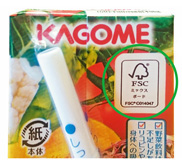 Containers Printed Using Green Energy
Kagome uses containers printed using green energy* for Yasai Seikatsu 100 Home Pack, its mainstay product. We will continue to take environmental initiatives by working together with related parties, although we face issues, including electricity.
*Green energy: Electricity produced using natural energy, such as wind power, solar power, and biomass (biological resources), under the belief that CO2 is not generated during the power generation process of such energy.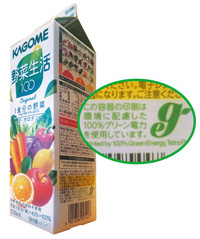 Promoting Usage of Environmentally-Friendly Paper Containers
At Kagome, we actively use CartoCan, an environmentally-friendly paper beverage container, for our beverage product gift packages. CartoCan has won the Minister of Agriculture, Forestry and Fisheries Award in the Eco-Products category at the 3rd Eco-Products Awards. Timber from forest thinning, wood waste from Japan and similar substances constitute more than 30% of the materials used for CartoCan. This permits a smooth cycle of planting, growing, and harvesting, leading to the protection and development of forests in Japan. Sales of products in gift packages that use CartoCan account for approx. 27% of the total sales of beverage products in gift packages in FY2016.
To promote recycling of the containers, we show the recycling method on our official website.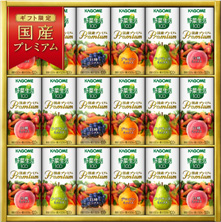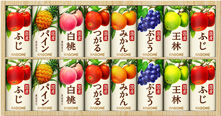 Promotion of the segregation and volume reduction of used paper containers
We include a thank you message on the packaging that says "Thank you for folding us up!" to customers who segregate and fold used containers to reduce volume.
We began to print this message on 200-mililiter containers in September 2008. Now we have expanded to 100- and 125-mililiter containers. This initiative has also spread to other companies.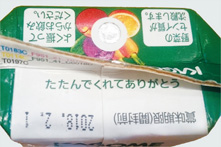 Responses to "Thank you for folding us up!"
We learned about the "Thank you for folding us up!" message from Yasai Seikatsu in class today. This made me feel that recycling is enjoyable. I am a second-year student in junior high school. I am rooting for you.
I think it is very good to encourage consumers to fold paper containers before disposing of them. I fold up the container because I want to see the message, "Thank you for folding us up!"
I finished drinking tomato juice and squashed the container today. My daughter found the "Thank you for folding us up!" message and told me about it, saying "Look at what it says, Mom." This allowed us to start a conversation, saying," It is good to fold up paper containers before disposing of them to save space," which made us feel warm inside. Thank you very much.
The other day, in a moral education class for second-year students at my school, I used the message on the Yasai Seikatsu container as the subject and had my students think about what we can do now. After this class, my students began to fold up paper containers more frequently. I have also seen them make each piece of rubbish smaller before disposing of it, which makes me very happy.
Easily Recyclable Packaging
Kagome actively uses cardboard materials because a high rate of recycling has been maintained for this material due to the established recycling system. In some of our gift packages, we have replaced the presentation box with cardboard as lid material. To encourage recycling of the packages, we indicate how to fold the box on the lateral side. In addition, in FY2003, we replaced presentation boxes with cardboard boxes for the gift packages that we send to our shareholders as a special benefit.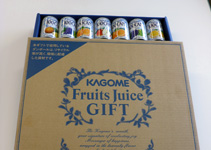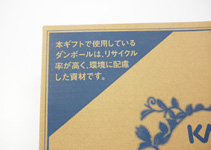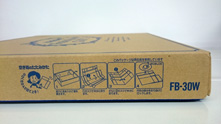 Tomato Cultivation with Lower Environmental Impact
At Kagome, we use large greenhouses to cultivate tomatoes, delivering safe, fresh and delicious tomatoes to the market year round. The greenhouses feature hydroponics culture that use slabs (coconut shells) as the growth medium.
We also implement the following measures to reduce the environmental impact of our tomato cultivation.
• Reduction of energy consumption and CO2 emissions

For greenhouses, we use heating equipment to maintain an appropriate temperature for cultivation. As the heat source, we use LPG, environmentally-friendly energy. In addition, we recover CO2 generated from the LPG combustion and use it effectively for photosynthesis, which is essential for the growth of tomatoes. We also use liquefied CO2, which is made by refining surplus gas from petrochemical and oil refinery companies and other external parties, to further facilitate photosynthesis and thereby increase the crop yield. This also allows us to reduce the use of LP gas accordingly.
Some of the electricity used at Hibikinada Greenfarm is from a nearby mega solar power plant, reflecting our efforts to make effective use of natural energy.

• Water

To effectively manage resources, we promote the use of rainwater and recycling of culture fluid, media and other resources.

• Agrochemicals

We implement measures to minimize the use of synthetic pesticides, including the prevention of insects in the greenhouses, daily monitoring for insects aimed at taking countermeasures at an early stage, and the introduction of natural predators, use of microbial pest control agents and electrolyzed water to exterminate pests.

• Waste

We ferment the tomato leaves and stalks produced during cultivation and recycle them into fertilizers (at Iwaki Onahama Greenfarm). We also take initiatives at other farms, including the recycling of wilted leaves and slabs used for hydroponic culture into compost and soil enhancers.