Food Education Activities
As a company engaged in food production, Kagome aims to contribute to the improved health and longevity of people through our corporate activities. We actively provide various forms of food education on foods and vegetables.
Food Education with its Origins in Growth Processes
We believe that the series of "growth" experiences spanning from cultivating, harvesting, and cooking harvested vegetables offer the potential to enrich our minds and bodies by fostering intellectual curiosity and appreciation for nature and food. We believe that the joy felt through this growth process represents the very roots of food education, which cultivates interest in food and the power to live. We will now work to spread this knowledge that food education's origins can be traced to this growth process in many aspects of our lives.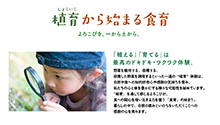 Main Content of Food Education with its Origins in Growth Processes
Contents that embody the stages of planting and growing, harvesting, and eating, knowing, and continuing will be published and disseminated via the Kagome website, Kagome Yasai Seikatsu Farm Fujimi, and original programs as they are completed.
Offering Tomato Seedlings as Gifts through the Lylyco Wakuwaku Program (Since 1999)
In April and May of each year, we distribute free Lylyco seedlings to elementary schools, kindergartens, and nurseries all over Japan. Lylyco is the collective name of the tomatoes that are used as ingredients in Kagome beverages. This reflects our hope that gratitude and an interest in life will be nurtured in the minds of children through the experience of cultivating tomatoes. We also hope that this initiative will encourage more children to love vegetables.
In FY2021, a total of 1,065 schools, kindergartens, and nurseries across Japan grew Lylyco tomatoes.
We also provide teachers with helpful tips and other useful information about plant cultivation and food education, mainly by distributing guidebooks and posting information on our website. This is how we support cultivation of Lylyco as an opportunity for children to enjoy a hands-on experience while learning about food.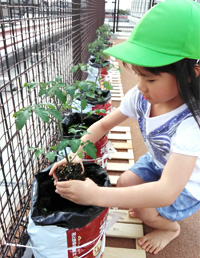 Providing Elementary School Students with an Interactive Class on Food Education through Oishii! Vegetable Challenge (Since 2018)
Oishii! Vegetable Challenge is a hands-on food education program held in collaboration with NPO After School, a non-profit organization involved in creating fun and safe after school programs. In FY2021, the program was conducted in 80 locations throughout Japan. Up to March 2022, we have delivered the program to a total of around 6,000 students in Japan.
In the program, Kagome employees act as teachers for students to learn about vegetables, through which our employees appreciate the importance of vegetable consumption promotion activities firsthand as well as discover new issues to address.
FY2022 Ministry of Education, Culture, Sports, Science and Technology backing.Received the Consumption and Safety Bureau Director General's Award in the Educator and Business Category of the 6th Food Education Activity Commendations organized by the Ministry of Agriculture, Forestry and Fisheries.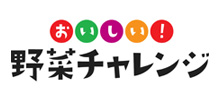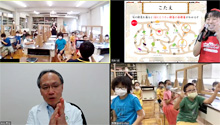 Kagome Yasai Seikatsu Farm Fujimi (since 2019)
We opened Kagome Yasai Seikatsu Farm Fujimi in Fujimi Town, Nagano Prefecture based on the concept of a vegetable theme park. Located in the beautiful natural backdrop of Mt. Yatsugatake and the Southern Japanese Alps, the farm provides visitors with the chance to experience the harvest of seasonal vegetables. Visitors can also enjoy fine dining at the farm's Italian restaurant and also purchase original merchandise only found at the farm. The neighboring Kagome Fujimi Plant also offers plant tours for the production line of Yasai Seikatsu 100, one of Kagome's most well known products. The farm and plant provide visitors with a full day of fun and learning with vegetables taking center stage.
Veggie Kids Nursery, Which Teaches Children to Love Vegetables
In 2019, Kagome opened a nursery under the concept of encouraging children to enjoy vegetables (Chuo Ward, Tokyo Prefecture).
As it is believed that eating habits formed during infancy will carry over to adulthood, we implement food education that allows children to learn about vegetables with their five senses, in addition to providing basic nursery care.
We provide an environment where children can learn and grow with vegetables through various activities, and convey the importance, enjoyment, and great taste of vegetables.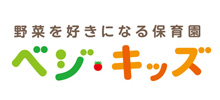 In 2022, Kagome together with experts in children's cognitive development developed a vegetable growing kit to teach children about the wonders of life using the five senses as part of the Veggie Kids - The Power of Thinking Program. The kit teaches children to discover changes in the growth of vegetables based on their questions of "why" during the vegetable growing experience. These kits, which feature easy to grow vegetable seedlings and soil, are provided directly to kindergartens and nursery schools.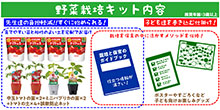 Alice in Wonder Farm (since 2022) - Original Story by Kagome
Alice in Wonder Farm is an original story created by Kagome based on Lewis Carroll's Alice in Wonderland, which continues to be read by people around the world. It is a story that develops a sense of gratitude for receiving the blessings of nature by learning about the creatures of the fields that nurture vegetables and the wonders of the natural environment from the same perspective as the main character, Alice, while enjoying an adventure of sorts. In addition, we will promote initiatives in which the characters from this story appear in a cross-functional manner to appeal to people's curiosity and inquisitiveness and teach more about agriculture fields.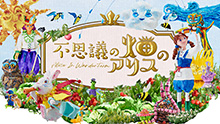 Food Education Event: Wonder Farm and Tomato Vines (since 2022)
As part of the Wonder Farm Project, an initiative to promote food education with its origins in growth processes, in 2022, Kagome held events at six locations across Japan on the theme of the world view presented in the picture book Alice in Wonder Farm as well as the wonder and power of life found in the tomato vine. At the venues, participants will deepen their understanding of the field, soil and living organisms in vegetable fields and learn about the fun of living with vegetables through interactive content that includes an overhead tomato vine growing actual tomatoes, harvest experiences, panel display of Kagome's original picture book Alice in Wonder Farm, as well as original movie and quiz competition featuring the same characters from the picture book.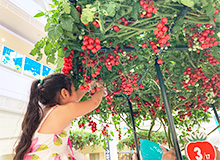 Plant Tours
Observe Kagome's unique approach to manufacturing using the perfect combination of good raw materials and good technology.
We also offer a virtual reality plant tour where visitors can see how tomatoes and carrots harvested by Kagome's contract farmers become juice. Virtual reality tours are accessible from a smartphone or computer and provide a 360-degree view.
*As of May 2022, plant tours are only provided at the Kagome Fujimi Plant.
*Currently tours are not being offered at other plants and the Kagome Memorial Hall.
Reference: Kagome Theater (1972 to 2021)
* Kagome Theater ended its run of performances in 2021. We would like to express our deepest gratitude to the many families who attended, as well as to all the people involved in organizing the Kagome Theater.