Food Education Activities
As a company engaged in food production, Kagome aims to contribute to the improved health and longevity of people through our corporate activities. We actively provide various forms of food education on foods and vegetables.
Kagome Gekijo (Since 1972)
Kagome Gekijo is a theatrical event for children held yearly during the summer since 1972. It is comprised of Kagome's original musicals that reflect our hope for the sound growth of children as future leaders. With the hope of encouraging children to eat more vegetables, the performance features songs and dances with messages of food education. To date, a total of around 3.64 million parents and children have attended these musicals. We have seen a rising number of people who enjoyed the musicals during their childhood and now return with their own children.
Starting from 2012, the 40th anniversary of Kagome Gekijo, until the 47th (2019) year of the event, we raised funds for a charitable foundation, the MICHINOKU Future Fund, providing children orphaned in the Great East Japan Earthquake with the means to continue their education. We donated the proceeds from the charity seats and sales of Kagome products sold at the venue, in addition to money from donation boxes.
The 49th annual event (2021) featured donation to the Kagome Mirai Yasai Foundation, which supports food education activities and organizations that support initiatives for children living in poverty, such as children's cafeterias.
In 2021, the event was held virtually online to prevent the spread of COVID-19 (live streaming without in-person attendance).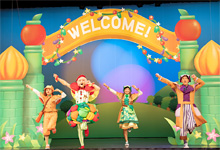 Number of Attendees
| 2016 | 2017 | 2018 | 2019 |
| --- | --- | --- | --- |
| 54,090 | 54,271 | 49,583 | 55,000 |
Offering Tomato Seedlings as Gifts through the Lylyco Wakuwaku Program (Since 1999)
In April and May of each year, we distribute free Lylyco seedlings in bundles of 48 or 96 to elementary schools, kindergartens, and nurseries all over Japan. Lylyco is the collective name of the tomatoes that are used as ingredients in Kagome beverages. This reflects our hope that gratitude and an interest in life will be nurtured in the minds of children through the experience of cultivating tomatoes. We also hope that this initiative will encourage more children to love vegetables.
In FY2020, a total of around 1,090 schools, kindergartens, and nurseries in Japan grew Lylyco tomatoes.
We also provide teachers with helpful tips and other useful information about plant cultivation and food education, mainly by distributing guidebooks and posting information on our website. This is how we support cultivation of Lylyco as an opportunity for children to enjoy a hands-on experience while learning about food.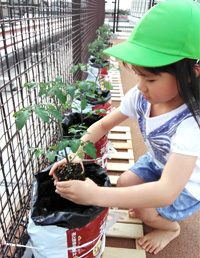 Providing Elementary School Students with Food Education Opportunities through Oishii! Vegetable Challenge (Since 2018)
Oishii! Vegetable Challenge is a hands-on food education project held in collaboration with NPO After School, a non-profit organization involved in creating fun and safe after school programs, for children to learn the appeal of vegetables. In FY2020, the program was conducted in 60 locations throughout Japan. Up to FY2020, we have delivered the program to a total of 130 schools and 4,800 students in Japan.
In the project, Kagome employees act as teachers for students to learn about vegetables, through which our employees appreciate the importance of vegetable consumption promotion activities firsthand as well as discover new issues to address.
In August 2021, Kagome's President & Representative Director, Satoshi Yamaguchi, served as a teacher in the project, where he conveyed the fun and importance of eating vegetables to students.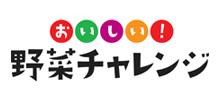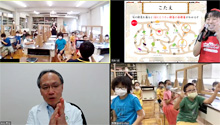 Veggie Kids Nursery, Which Teaches Children to Love Vegetables
In 2019, Kagome opened a nursery under the concept of encouraging children to enjoy vegetables (Chuo Ward, Tokyo Prefecture).
The nursery currently serves Kagome employees and residents of the community. As it is believed that eating habits formed during infancy will carry over to adulthood, we implement food education that allows children to learn about vegetables with their five senses, in addition to providing basic nursery care.
We provide an environment where children can learn and grow with vegetables through various activities, and convey the importance, enjoyment, and great taste of vegetables.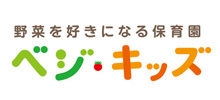 Plant Tours
Kagome offers tours at its Nasu, Fujimi, and Ibaraki plants. During the summer, some of these plants provide visitors with opportunities to experience harvesting tomatoes. During the tours, we show visitors Kagome's unique fresh vegetable processing* and production processes, which were developed by combining excellent raw ingredients with outstanding technologies in an optimal manner.
In addition, we introduce the life story of our founder, Ichitaro Kanie, and our corporate history at the Kagome Memorial Hall at the Ueno Plant.

*Plant tours and visits to Kagome Memorial Hall have been suspended to prevent the spread of COVID-19. (as of July 31, 2021)