Our Basic Approach to Personnel Affairs
Global HR* Policy
(1) Throughout its more than 110 years of history, Kagome has consistently attached great importance to the people who work for it.
(2) The people who work for Kagome are the most important stakeholders of the Kagome Group.
(3) The following HR-related tools are vitally important for formulating a management policy and related measures:


i) Job grades
ii) Evaluation framework
iii) Succession planning program
These three vital tools, which are common to all units, constitute the basis for assessment.
*HR: Human Resources
Starting from FY2013, the Kagome Group has been working to build a Global HR System to take account of the increasingly diverse workstyles of its employees. This system is a customizable personnel system that allows Kagome employees all over the world to select a career path suited to their own needs. It is aimed at ensuring that employees are evaluated according to fair, equitable criteria and receive fair treatment no matter where in the world they work and no matter what work they are performing. We will shift from a seniority-based system to a performance-based system that embraces the concepts of Pay for Job, Pay for Performance, and Pay for Differentiation. We will thus eliminate the Japanese-style element of seniority.
Under the Kagome Group HR Policy, we have introduced and implemented the following systems to date.
i) In July 2013, our new Director Remuneration and Evaluation System came into force. Under this system, the percentage of the variable compensation component has been increased and directors' responsibilities are more closely linked to the performance of each.
ii) In July 2014, we expanded the approach represented by i) above by enforcing the Executive Officer and General Manager Evaluation and Compensation System.
iii) In July 2014, the Global Job Grade system came into force as a system that applies to executive officers and general managers. Under this system, grades are set according to the scale of duties and market value, with personnel measures implemented in accordance with the grade.
iv) In April 2015, the Global Job Grade system mentioned in iii) above was expanded to include manager-level employees, and a Manager Evaluation and Compensation System was established as a system linked with i) and ii) above.
v) In April 2016, we began to give Executive Officer Management Training and provide executive officers and general managers with assessments and feedback.
We implement systems for ensuring the further growth of Kagome as an organization while also helping the people involved in decision-making and organizational management to have higher perspectives in accordance with the roles they are expected to play and the actions they are expected to take at Kagome. Moving forward, we will aim to implement further measures, including systems for personnel development and promotion that are common to the Kagome Group.
Fair, Equitable Employment Conditions and Systems
Kagome believes it is important that individual employees can fully realize their maximum potential, free from discrimination based on nationality, creed, gender, or social status, with all of them respecting each other's diverse values.
One element of this belief is our respect for diverse workstyles and life plans. This is reflected in the implementation and enhancement of initiatives including the telecommuting system, the system for reemploying employees who resigned for personal reasons, and shorter working hours for supporting employees raising children.
To support employees who desire active lifestyles with a balance between work and family life, Kagome has launched a Work-Family Compatibility Support Site on the company's intranet. This site provides information about support programs, procedures for receiving support, and other information related to family life including childbirth, childrearing, and nursing care.
In addition, to employ diverse human resources pursuant to our corporate philosophy of Corporate Openness, we open our doors not only to new graduates and recent graduates but also to various other job seekers, with a full appreciation of the individuality and personality of every single applicant.
Number of New University Graduates Hired by Kagome

Status of Employment (Kagome Co., Ltd.)
2010
2011
2012
2013
2014
2015
2016
Number of regular full-time employees
Male
1,197
1,198
1,212
1,197
1,260
1,251
1,206
Female
346
344
353
364
384
390
364
Total
1,543
1,542
1,565
1,561
1,644
1,641
1,570
Average age
40.0
40.2
40.3
40.1
40.6
40.8
40.9
Turnover rate
1.0
1.3
0.9
0.7
1.3
1.5
1.4
*The figures for the number of regular employees and average age are from the Securities Report.
*The figures for the turnover rate are based on the number of employees who left the company for personal reasons.
Number of Employees by Region (Kagome Group)
2010
2011
2012
2013
2014
2015
2016
Japan
regular full-time employees
1,672
1,670
1,687
1,689
1,779
1,774
1,771
Temporary employment
980
1,029
1,007
1,019
1,030
1,004
1,013
The United States
regular full-time employees
59
56
56
165
164
356
406
Temporary employment
265
239
249
297
312
311
699
Europe
regular full-time employees
37
81
163
204
200
211
222
Temporary employment
119
73
253
286
137
144
283
Asia
regular full-time employees
244
259
268
256
188
190
148
Temporary employment
22
76
50
42
49
52
49
Oceania
regular full-time employees
33
35
35
35
37
38
74
Temporary employment
67
51
2
2
2
2
85
System for Reemploying Employees Who Resigned for Personal Reasons
Kagome introduced this system in 2006 to bolster its support of work-life balance by rehiring former employees who resigned for personal reasons.
This system is intended for all employees who resigned of their own accord for reasons such as marriage and their spouse's job transfer, including those who switched companies. When the need arises to hire new staff at any business site in Japan, applicants are recruited from among pre-registered former employees. Successful applicants are selected in consideration of their career path and reemployed under fixed-term contracts.
As of May 31, 2017, a total of 98 persons are registered, with a cumulative total of 11 persons reemployed under the system, and five of them continue to work for the company.
Support for Childcare
To support employees who endeavor to strike a balance between work and childcare, Kagome has introduced a system that permits shorter working hours for childcare. This system permits employees with children in the third grade or younger to reduce their work hours by up to two hours per day.
The number of employees who began to use this system was 46 in 2016 and 17 in 2017 (as of May 31).
*Based on the school year in Japan that begins on April 1 and ends on March 31 of the following year.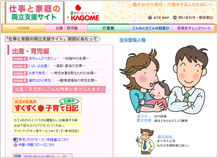 Reemployment of Retirees
In FY2006, Kagome revised its system for reemploying retirees by raising the age limit to 65. This revision is aimed at allowing retirees to continue to find their work satisfactory as well as to make full use of the advanced skills and rich experience of retirees.
Retirees are normally employed as full-time employees (who are not entitled to additional pension rights). In the case of an individual with a high market value, however, that value is reflected in the reemployment conditions. For certain types of work, the required working hours may be reduced to 60% of the normal working hours.
Of Kagome employees who reach retirement age each year, around 80% apply for reemployment. As of May 31, 2017, a cumulative total of 92 retired employees have been reemployed.
Employment of People with Disabilities
A large number of people with disabilities are employed at Kagome's Tokyo Head Office, branches, plants, and various other workplaces.
Since FY2010, the percentage of Kagome employees with disabilities has exceeded the statutory rate of 2.0% (which had been 1.8% until FY2012).
Average Annual Percentage of Disabled Employees