Participation in a Variety of Conservation Activities
The Kagome Group participates in a variety of environmental conservation activities, including the beautification of each business location and tree planting.
Forest Conservation and Improvement
Through the Forest Foster Parent Program of Nagano Prefecture, Kagome concluded a foster parent agreement with Fujimi Town, Nagano Prefecture, on August 8, 2015, with Kagome as the foster parent and Fujimi Town as the foster child.
To express gratitude for the gift from the group of mountains, including Mt. Nyugasa, which is the source of the well water we use at Fujimi Plant, we have named an approx. 150-hectare area on Mt. Nyugasa (Fujimi Town, Nagano Prefecture) "Kagome Forest" and engage in forest conservation and improvement activities in the area. In FY2016, we planted trees in May and weeded the area in July, involving employees in part of the forest conservation and improvement activities. In addition, starting from FY2005, employees working at Fujimi Plant also participate in tree-planting volunteer activities on Mt. Nyugasa, which is organized by Fujimi Town.
In FY2011, Nasu Plant and Innovation Division began to participate in planting activities for red pine saplings in a state-owned red pine grove along Nasu Kaido (Tochigi Prefectural Route 17) jointly with the Nasunogahara Branch of Japan Bonsai Association and Enna Forest Office. To conserve the local eco-system, we grow and plant saplings that sprouted in a red pine grove in the same area.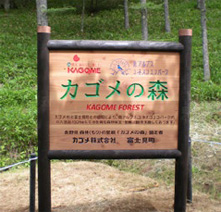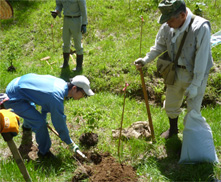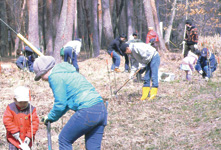 Environmentally-Friendly New Energy Business
The Kagome Group began to operate a solar power generation business in June 2013 at three locations in Japan (Aomori Prefecture, Yamanashi Prefecture, and Fukuoka Prefecture) at the former sites of plants and distribution centers. The total annual power generation of the three plants (7,175 MWh*1) is equivalent to approx. 12% of the total power consumption of the Kagome Group in Japan, making it one of the largest-scale solar power generation businesses run by a food manufacturer. Every year on March 11, we donate money from the sale of electricity generated on that day to the MICHINOKU Future Fund*2 to commemorate the Great East Japan Earthquake. (We donated 730,000 yen in March 2016.)
Our other initiatives taken using solar power generation include the introduction of emergency solar power lighting systems to plants and installation of solar power generation facilities at the greenhouses of the R&D Headquarters and the chilled product manufacturing lines of Ibaraki Plant, all of which are aimed for internal power consumption.
*1: Equivalent to annual power consumption by approx. 2,000 general households. Annual power consumption of a general household is approx. 3,600 kWh (Ministry of Economy, Trade and Industry).
*2: The MICHINOKU Future Fund is a scholarship fund that supports children who lost one or both of their parents in the Great East Japan Earthquake. It was established by Kagome Co., Ltd., Calbee, Inc., and ROHTO Pharmaceutical Co., Ltd. to help such children to receive higher education.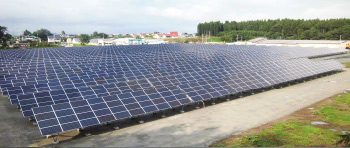 Related Organizations
In addition to our own initiatives, we at Kagome participate in the following organizations for environmental activities.
• Environmental Countermeasures Council of the Kanto Nourinkyo
• Japan Soft Drink Association
• Japan Canners Association
• The Beverage Industry Environment Beautification Association
• LL Paper Pack Recycling Study Group
• Green Purchasing Network
• Sustainability Committee of Japan TCGF