Environmental Management System
Operation of Quality and Environmental Policy and Company-wide Environmental Management
At all domestic Kagome Group companies, we have established and implemented the Kagome Environmental Management System (KEMS). This system clearly defines responsibilities for all departments and business sites nationwide, with the President at the top, based on the Quality and Environmental Policy established in 2017.
Specifically, we have developed an environmental management plan based on the Quality and Environmental Policy, and set annual goals in order to reach the set targets. Individual departments and business sites promote environmental activities to achieve targets for each fiscal year. Results of the activities are checked regularly by top management and the head of each department and business site to set goals and an action policy for the next fiscal year.
EMS Structure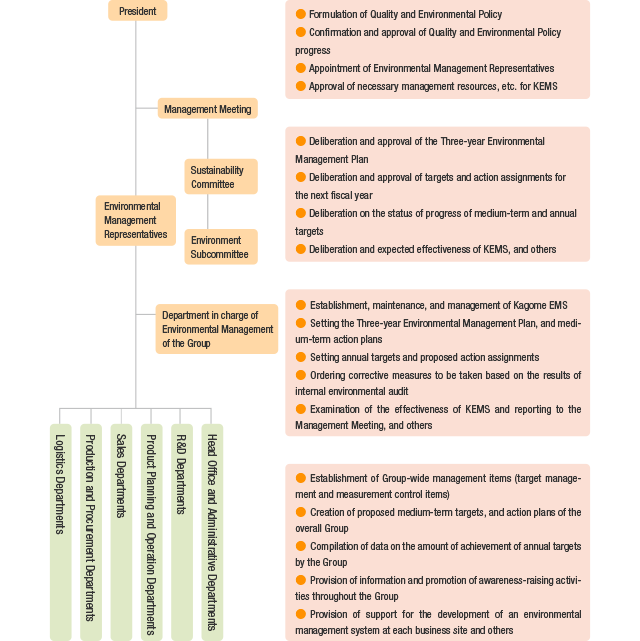 ISO 14001 Certification
At Kagome, we conduct environmental management following a system based on ISO 14001. Internal and external environmental audits are conducted at each plant in accordance with ISO 14001 to ensure the appropriate operation and improvement of EMS.
As of July 2021, all domestic departments, including plants, branches, head office administrative departments, and others, have been integrated into our ISO 14001 certification.
ISO 14001:2015 Audit Registration Certificate
*100% of our domestic production sites are ISO 14001 certified
(The overall ISO 14001 certification rate for the Group's production sites is 43%)
In addition, the excellence in initiatives put into Kagome's management system have been recognized and awarded with the Selection Committee Special Award at the JMAQA Awards 2021 from the Japan Management Association Quality Assurance Registration Center (JMAQA).
Reference: What are JMAQA Awards?
The JMAQA Awards is commendation system that acknowledges and showcases the efforts of growing organizations that make good use of ISO by integrating their business and management systems, targeting organizations registered with JMAQA.