Promoting CSR in the Supply Chain
Fair Relationship with Suppliers
Maintenance of equal, sound, and appropriate relationships
As an "open company," Kagome strives to maintain equal, sound, and appropriate relationships with domestic suppliers and local manufacturers.
Proposals from companies who want to start new transactions with us shall be handled immediately and fairly. Moreover, alongside complying with the Antimonopoly Act in our transactions, we respect the spirit of the Act, and shall never commit inappropriate trading with our suppliers. Therefore, we have set up a contact via telephone, the "Kagome Compliance Hotline," to handle requests and queries from suppliers.
Sharing Recognition with Suppliers
Common values based on Kagome's corporate philosophy
At Kagome, we are honored to have our trusted suppliers in medium- to long-term partnerships. They share the values of our corporate philosophy and support us in our business of delivering valuable products to customers.
To inspire and get to know each other on a deeper level, we meet with our suppliers once a year to exchange words and ideas, focusing on companies that have long trading relationships with us.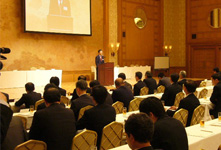 Overseas Procurement of Processed Agricultural Materials
Concerning processed agricultural materials we procure from overseas producers, we generally visit the suppliers' locations and inspect the quality management status for the processes, from cultivation to production.
For tomatoes in particular, we hold yearly meetings with suppliers before production season. With suppliers, we discuss issues throughout the entire production process from field to factory to enhance the quality of raw materials. For example, we investigate not only the processing procedures of harvested produce, but cultivation methods, such as the number of times pesticides are applied by contract farmers, as well as optimal fertilization methods. Moreover, we extract potential issues for the coming year from the season review at the end of the period to set targets that will allow us to continue growing together.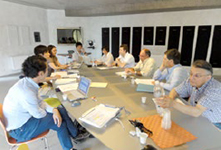 On-site Quality Inspection of Suppliers
In order to procure safe, higher-quality ingredients, we conduct on-site quality inspections of our suppliers, in which we check the production processes at the actual production sites, in addition to inspections based on their submitted documents. This allows us to better identify risks of quality defects, determine appropriateness of purchasing from new suppliers, identify issues with existing suppliers from the viewpoint of risk prevention, and make joint improvements.
We conduct these on-site quality inspections for all ingredients included in processed agricultural materials and other products from all of our suppliers throughout the world.