Kagome CSR Procurement Policy
We established the Kagome CSR Procurement Policy not just for the procurement of safe and secure raw materials, but also for contributing to the realization of a sustainable society together with procurement partners.
This policy ensures fair, equitable, and transparent transactions and promotes procurement activities that take into account compliance with laws and ethics along with human rights, labor, and the environment.
Ensuring safety and peace of minds in raw materials and product safety
·We conduct procurement that prioritizes quality and safety above everything else, while giving consideration for the best combination of quality, cost and supply for customers' peace of mind.
Fair trade
·We will select business partners fairly and transparently based on a comprehensive evaluation of technical prowess, proposal capabilities, and initiatives toward the environment, in addition to quality, cost and supply.
·We will not permit transactions using a superior bargaining position or transactions complicit in exploitation.
Consideration for human rights, labor and the environment
·We will carry out initiatives that respect the human rights of individuals, labor environment and health and safety.
·We will carry out procurement activities considerate of the environment while attempting to prevent pollution of water, land and air used to cultivate vegetables.
Compliance with laws and ethics
·We will comply with the laws and regulations of each country and engage in fair and transparent procurement activities.
·We will fulfill contractual obligations with business partners and appropriately manage confidential and personal information related to procurement transactions.
Mutual prosperity with business partners
·We will mutually support and assist business partners and implement measures aimed at resolving social issues.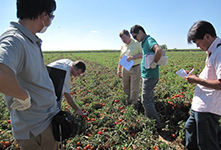 Kagome Supplier CSR Actions Guidelines
We established the Kagome Supplier CSR Actions Guidelines, which contains detailed guidelines for our procurement partners inside and outside of Japan based on the belief that supplier cooperation is vital to implementing the Kagome CSR Procurement Policy. The guidelines are broken down into sections with international relevance, including respect for human rights, appropriate labor environment, and consideration toward the environment. We are now working to ensure compliance with these guidelines by making them known to suppliers through briefings and other means, along with self-checks using a dedicated questionnaire or field audits, each intended to deepen their understanding and implementation in an effort to further enhance the effectiveness of our CSR procurement activities.
Promoting CSR in the Supply Chain
Fair Relationships with Suppliers
Maintaining Equal, Sound, and Appropriate Relationships
Kagome strives to maintain equal, sound, and appropriate relationships with domestic suppliers and local manufacturers. Proposals from companies who desire to do business with us are handled immediately and fairly. Moreover, alongside complying with the Antimonopoly Act in our business dealings, we respect the spirit of the Act, and never engage in unfair trade with our suppliers. Suppliers are also eligible to use the Kagome Compliance Hotline.
Overseas Procurement of Processed Agricultural Raw Ingredients
With regard to the processed agricultural raw ingredients that we procure from overseas producers, we generally visit suppliers' locations and inspect their quality management for the all processes from cultivation to production.
For main imported products and raw ingredients, we hold annual meetings with suppliers before production season. With suppliers, we discuss issues throughout the entire production process from field to factory to enhance the quality of raw ingredients and products. For example, we investigate not only the processing procedures of harvested produce, but also cultivation methods, such as the number of times pesticides are applied by contract farms, as well as optimal fertilization methods. Moreover, we identify potential issues for the coming year from the seasonal review at the end of each season to set targets that will allow us to continue growing together.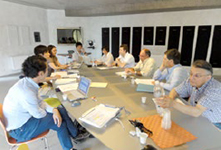 On-site Quality Audits of Suppliers
In order to procure safe, high-quality ingredients, we conduct on-site quality audits of our suppliers, in which we check the production processes at the actual production sites, in addition to audits based on their submitted documents. This allows us to better identify risks of quality defects, determine appropriateness of purchasing from new suppliers, identify issues with existing suppliers from the viewpoint of risk prevention, and make joint improvements.
We conduct these on-site quality inspections for all processed agricultural raw ingredients and other products from our suppliers throughout the world.