Establishing "Kagome Quality" for Our Customers
Since our founding, we have endeavored to offer ideas for a healthy and enjoyable diet based on nature's bounty. This approach, as expressed in our "True to nature, the flavor of Kagome" brand statement, reinforces our commitment to customers. Vital to fulfilling this commitment is the development of safe, reliable products. Thus, to ensure product safety we have adopted a quality management system (QMS) covering everything from raw ingredient procurement, R&D and production to distribution in accordance with our "Product Quality Policy," which was established in 2003.

Squeezing Out the Rich Potential of Nature's Offerings,
Empowering the Health and Wellness of People
While engaging in product and technology development to meet today's myriad consumer needs, we also promote future-focused R&D. We seek to discover the knowledge and technologies that will support Kagome in the decades to come. Through such R&D, we work to fulfill our mission of creating products that contribute to the wellbeing and longevity of people everywhere.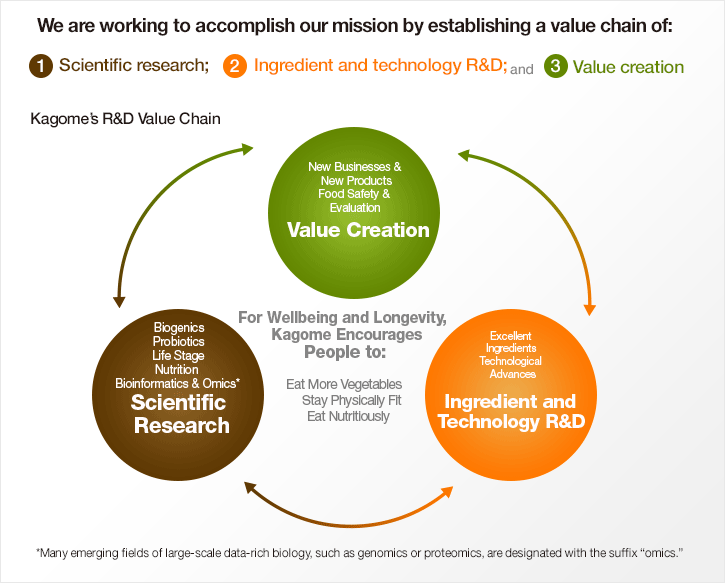 Protecting the Environment at Every Stage of the Value Chain
With an emphasis that goes beyond guaranteeing product safety and customers' peace of mind, we work to ensure that every one of our operations is as eco-friendly as possible. We constantly strive to reduce the environmental impact of our entire business cycle - from genetic resource management through to cultivation and production as well as logistics - to this end implementing eco-conscious activities that have real relevance to our value chain.