Guidelines Based on the Philosophy of "Corporate Openness"
With its company executives and employees mutually recognizing and respecting one another's individuality and capabilities, our company supports a philosophy of "corporate openness" that strives for fair and transparent business operation. Each Group company also observes this philosophy, and it is the basis upon which they conduct their corporate activities.
This corporate philosophy was initially realized through the daily actions of each executive and employee of Kagome Group. In this regard, our company formulated the Kagome Code of Conduct, a set of behavioral guidelines thoroughly adhered to by all group executives and employees.
The Kagome Code of Conduct
• Relations with Customers
To bring to life the Vision for the Kagome Brand, "True to nature, the flavor of KAGOME," we at Kagome place value on our communication with customers and provide safe products that can be consumed with peace of mind.
• Relations with Business Partners, Industry and Government
We thoroughly comply with the Antitrust Law, Unfair Competition Prevention Act and legal regulations related to intellectual property. We conduct honest and transparent business transactions, and we contribute to the industry's development by undertaking competition in a fair manner.
• Relations with Shareholders and Investors
We work to deepen an understanding of our business operations among shareholders and investors by disclosing information about the Company and aggressively undertaking investor relations activities, while striving to raise sustainable corporate value.
• Relations with Society
Fully aware of our responsibilities and duties as a corporate citizen, we endeavor to coexist harmoniously with society.
• Relations with Employees
We respect fundamental human rights, strive to realize a safe and comfortable work environment, and work to foster a corporate culture that encourages abundant individual initiative.
• Preservation and Harmonious Coexistence with the Environment
We cherish the global environment, which, through its many bounties, supports the healthy lifestyles of people. We will continue to engage in corporate activities that are in harmony with the global environment.
• Compliance with International Law
We adhere to international and regional laws and regulations while placing the utmost value on local cultures and customs.
Compliance Promotion System
Management Meeting (which is chaired by Kagome's President & Representative Director). The Compliance Committee, which is chaired by Director & Senior Managing Executive Officer with responsibility for over-seeing compliance, undertakes verification of compliance pro-motion and monitoring status. The results of the Compliance Committee's deliberations are reported to the members of the Management Meetings via the Joint Risk Management Meeting. The Legal Affairs Office, which functions as the secretariat of the Compliance Committee, plays the central role in day-to-day compliance operations.
Kagome Group companies in Japan established the Kagome Compliance Hotline, which is accessible to all domestic Group employees, and through which reports can be made and guidance given with regard to illegal or suspicious activities in the workplace. This system incorporates an internal direct line to the Compliance Committee's secretariat, as well as an external hotline to an outside law firm. To encourage employees to use these contacts without hesitation, the identities of those making reports are kept strictly confidential.
Kagome takes steps to protect the privacy of employees who make reports to ensure that these employees do not suffer any adverse consequences. We quickly conduct investigations based on the information received and take appropriate countermeasures. In such cases, respecting the principle that whistleblowers and other related parties cannot be identified, we share information internally so as to prevent similar incidents from occurring in the future. In fiscal 2016, the Kagome Compliance Hotline was used 15 times, and each case was resolved.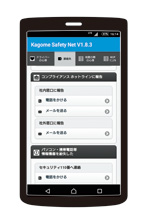 Contact details of the Compliance Hotline are registered on Kagome Safety Net, a smartphone application which can be downloaded by the employees, and every effort is made to ensure that employees can access the Compliance Hotline at any time.
Kagome fully recognizes the importance of compliance in relation to the Group companies located overseas. In 2014, an overseas internal reporting system has been introduced, and the scope of this system has been gradually expanded to include the Group companies located in the U.S. and Australia.
We will continue to strive to prevent and rapidly identify illegal activities through the appropriate operation of the Kagome Compliance Hotline.

Initiatives to Maintain Rigorous Compliance
Having formulated the Kagome Group Compliance Implementation Rules, Kagome Group implements thorough compliance throughout the Group. At domestic Group companies, the legal affairs department, which serves as the secretariat of the aforementioned Compliance Committee, leads these efforts.
Compliance implementation activities include not only the preliminary checks in compliance-related cases and the dissemination of compliance-related information, but also the conduct of group training for new employees and new managers, and an ongoing program of in-house compliance seminars, etc. that make use of e-learning, case studies, and group discussions. The in-house compliance seminars are integrated with the Skill Points program that forms part of the company's personnel management system, and participation in these seminars is a prerequisite for promotion.
Efforts are made to keep training up-to-date, taking account of new developments in society and using examples from within the company. The training arranged for fiscal 2016 included e-learning concerning tax compliance. In addition, the group training aimed to increase the employees' awareness of compliance-related issues, delving into topics such as the Subcontract Act, points to note regarding the use of social media, unjustifiable premiums and misleading representations, maternity harassment and LGBT.