Appreciation, Nature and Corporate Openness
On its 100th anniversary in 1999, Kagome set forth a new corporate philosophy that reexamined the spirit and company creed that Kagome's management has historically held. Appreciation is what the Company's founder, Ichitaro Kanie, ultimately attained as a manager. Nature is the source of Kagome's products and the value it provides. Corporate Openness expresses Kagome's commitment to being a company that is fair and open toward people and society. These three words embody Kagome's corporate philosophy; regardless of how the times may change, they will remain at the heart of everything Kagome does.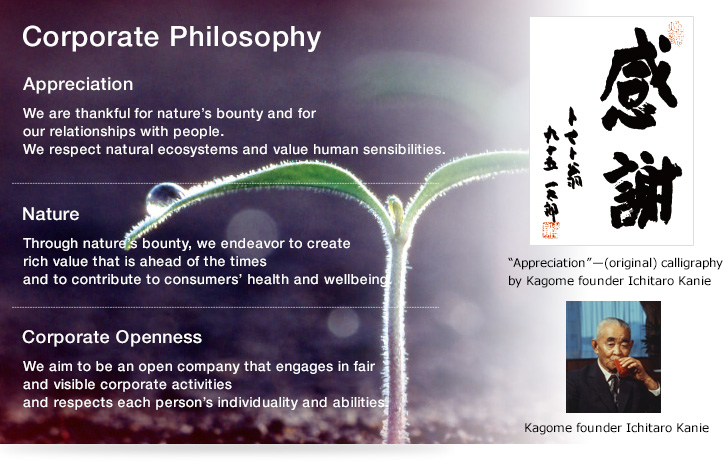 The Company is promoting brand value-oriented management,
with "True to nature, the flavor of Kagome" as its brand statement.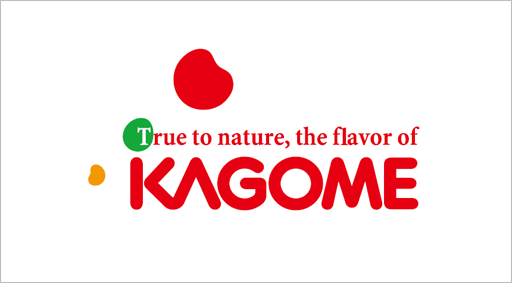 Our promise to customers:
To strive for healthier food that makes the most of natural antioxidants and immune system boosters. To produce healthy, great-tasting foods without relying on unnatural additives or technologies. To create new types of fun food, considering the needs of our bodies and our planet.
A Pioneer and Leader in Japan's Tomato Business
The first budding of tomatoes he had grown himself - this was where it all began way back in 1899 for Kagome's founder Ichitaro Kanie when he at last succeeded in cultivating tomatoes in Japan. Not long after this achievement, Kanie expanded the scale of tomato cultivation and began to develop operations that eventually became a tomato processing business handling sauces, ketchups and juices. His endeavors established the foundation of what Kagome is today.
We have been in the tomato business over more than 120 years. Not only did we pioneer tomato processing in Japan, today we are the country's undisputed industry leader in this sector.
"True to nature, the flavor of Kagome" - this is our promise to customers. Providing products that maximize the benefits of nature's gifts, Kagome is working consistently to contribute to the wellbeing and longevity of people around the world.