Policies for handling risk
Kagome, as a "vegetable company" that makes maximum use of nature's bounty and aims to contribute to helping customers live longer, healthy lives, has been promoting activities to reduce various risks centering on food safety. We are engaged in continuous risk management efforts in keeping with a company-wide approach to risk management (ERM: Enterprise Risk Management) to improve the efficiency of management decision-making with an eye on ESG.
Risk management activities and structure
In terms of company-wide risk management, we are seeking to create an enhanced risk management structure and have established six specialized committees which handle issues that are viewed as being particularly important for a food products company. We have also established the Enterprise Risk Management Committee chaired by the President, as a body overseeing risk management. This committee is attended by the Senior Managing Executive Officer(s), standing Audit and Supervisory Committee member(s) and Managing Executive Officer & Chief Human Resource Officer, and also includes other Audit and Supervisory Committee members who are external directors in its membership, enabling the meeting to obtain objective assessments from an outside perspective. The Enterprise Risk Management Committee, which was newly established in 2021, is responsible for establishing a risk management system and maintaining the control environment, in addition to the roles of the old Joint Risk Management Meeting in place up to 2020. Moreover, the Internal Audit Department's subjective involvement in risk management was transferred over to the Enterprise Risk Management Committee, which has enabled the Internal Audit Department to provide independent and objective assurance on risk management covering the entire company. Furthermore, in order to establish a risk management system and clearly differentiate the roles of the Enterprise Risk Management Committee as the secondary front, and the Internal Audit Department as the tertiary front, the position of Chief Risk Management Officer(CRO) was established as the person in charge of the committee.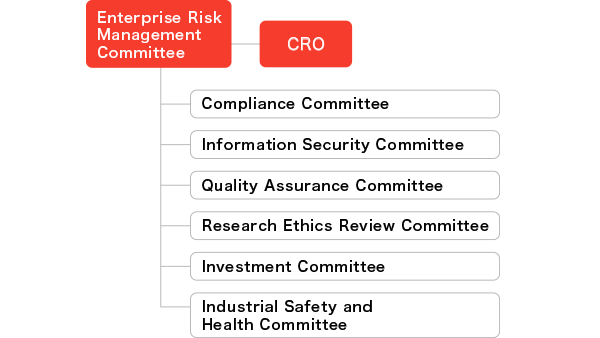 ●Compliance Committee

The Compliance Committee is a corporate body to promote compliance within the Kagome Group. This committee has set up a Compliance Hotline within its secretariat to receive reports from employees and others. In this way, we work to put in place preventive measures and to detect any anti-social or unethical actions as early as possible. Furthermore, this committee discusses measures in response to new public regulations, etc. as necessary.

●Information Security Committee

The Information Security Committee determines basic policies and audits the execution of these policies with regard to the protection of important information, such as personal information held throughout the Group, as well as the proper management framework and usage. The committee works to assure adherence to the law and prevent information leaks. The Information Security Committee conducts monitoring of any unauthorized access from the outside and examines measures to enhance operation of information systems.

●Quality Assurance Committee

To ensure customers enjoy peace of mind when using our products which contribute to customers' longevity and good health through nature's bounty, maintaining quality is always the most important issue for Kagome as a food manufacturer. With the objective of strengthening quality assurance of products, the Quality Assurance Committee brings together representatives of relevant departments and meets monthly to address customer comments, prevent accidents, respond to amendments of laws, and assure proper labeling. The establishment of this committee has enabled Kagome to respond more precisely, and in a more expeditious fashion, both internally and externally.

●Research Ethics Review Committee

For the purpose of contributing to giving customers longer, healthy lives through provision of vegetables, we engage in research activities toward elucidating the mechanism behind the benefits of vegetables and acquisition of its evidence. The Research Ethics Review Committee was established to investigate possible risk of individual dignity or human rights violations when product efficacy and safety verification testing on humans is conducted at the R&D stage. This committee is comprised of employees who are not a part of our company's R&D operations, as well as external medical experts and lawyers; hence creating a framework with a neutral perspective, capable of judging ethical adequacy and scientific legitimacy of research objectives and methods.

●Investment Committee

We are working on various business developments in order to transform ourselves from a "tomato company" to a "vegetable company." The Investment Committee is an independent committee which consists of members selected from in-house specialized departments. The committee was established for the purpose of assessing the profitability and risks of investments drafted by each department and monitoring investment returns. Proposals which are verified by this committee are submitted to the Board of Directors or the Management Meetings, where they are deliberated officially.

●Industrial Safety and Health Committee

The Industrial Safety and Health Committee has two primary responsibilities. First, it designs new in-house systems for occupational health and safety. Second it uses its expertise to support the activities of the health and safety committees of each business site within the Kagome Group and conducts cross-functional monitoring of these activities based on common Group-wide reporting formats and risk assessment. This helps to strengthen and raise the level of health and safety risk management across the entire Kagome Group.