Basic Approach to Biodiversity Protection
Kagome has developed a broad range of products using the abundant gifts of nature, including tomatoes, other vegetables and various fruits. We seek to contribute to the well-being and longevity of people all over the world by providing products that maximize the benefits of nature's bounty.
Farmland biodiversity, which helps nurture the gifts of nature, is secured by the proper maintenance of ecosystems on farmland and in village forests. For Kagome as a food company, biodiversity considerations are vitally important tasks. Healthy crops are grown only on productive farmland that enables diverse species to be active. Farmland is kept in a proper condition only when it is managed by people.
At Kagome, we will continue to be thankful for nature and will work under a policy of protecting the ecosystems and biodiversity of our valuable farmland.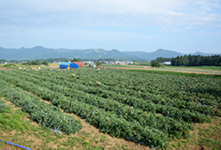 Comprehensive Cultivation Guidance Covering Soil Development and Biodiversity-Focused Farming
Based on its cultivation philosophy emphasizing safety, reliability and environmental considerations, Kagome provides contract farmers with comprehensive guidance that begins with soil development. We thus promote tomato cultivation with minimal use of agrochemicals and chemical fertilizers.
Strict Guidelines for Agrochemical Use
At Kagome, we use agrochemicals only when they are necessary. When we use them, we observe our strict guidelines that ensure ecosystem preservation.
- In Japan, 170 ingredients of agrochemicals are permitted for use in tomato cultivation. From among them, we have carefully selected 49 ingredients in consideration of productivity, the health and safety of consumers and producers, and the environment. We have thus established the Kagome Agrochemical Standard and cultivate tomatoes by following it.
- We never use agrochemicals designated as poisonous substances.
- We never use agrochemicals that are suspected to be endocrine disruptors.
- We never use agrochemicals deemed to give negative impact on living organisms living in the soil, such as microorganisms and natural predators of tomato pests, and on fish when it flows into rivers.
- We give priority to the use of agrochemicals that are believed to have a relatively small environmental impact, such as bacillus thuringiensis (BT).
- We give priority to the use of agrochemicals that can be analyzed by applying Kagome's simultaneous analysis method.
- When our staff members in charge of farms patrol farms, they check for diseases and insect damage, promptly diagnose any they find, and provide guidance on the appropriate use of agrochemicals to minimize their use.
- We reduce the amount of agrochemicals we use by summing up diseases and insect damage that occur each year and focusing our efforts on preventing diseases and insect damage.
- By means of rotation cropping that includes tomato cultivation, we promote maintenance of soil biodiversity to help avoid replant failure and the occurrence of diseases and insect damage.
- We confirm that the Kagome Agrochemical Standard is followed, by checking the record of use of agrochemicals and conducting in-house analyses of residual agrochemicals (quick analysis of approximately 550 agrochemicals with the simultaneous analysis method).
Strict Guidelines for Use of Fertilizers
- We encourage soil development with organic fertilizers, such as compost and green manure, thereby minimizing the use of chemical fertilizers.
- Kagome analyzes the soil of farms before beginning to grow tomatoes there and provide guidance on fertilization planning based on the conditions of each farm. We then determine the optimal amount of fertilizers to be used for each farm through growth diagnosis of tomatoes that is made using their fruit and leaves. In this way, we prevent the excessive use of soil fertilizers.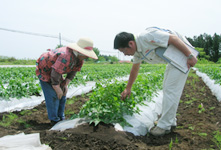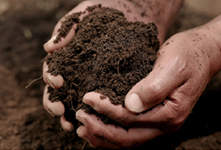 Biodiversity Survey of Tomato Farms
Kagome believes that managing farmland appropriately while maintaining the biodiversity of the land is important for protecting living things and the environment in a sustainable manner through business.
Based on this belief, in FY2011 we conducted a survey of tomato farms with biodiversity specialists to evaluate biodiversity of the farms objectively.
As a result, we found that appropriate maintenance and management of farmlands enables Kagome's business to have the most positive effect on biodiversity.
Further, in FY2012, we established the Farmland Biodiversity Evaluation Committee (chaired by Professor Yoshinobu Hoshino of Tokyo University of Agriculture and Technology) to study the biodiversity of farms. This committee conducted a biodiversity survey of the open-field tomato farms of our contracted farmers. As a result, we confirmed the existence of many living organisms and found that conditions with very little impact on the habitat of frogs, spiders, and other living organisms, which are used as an evaluation index for biological surveys, were being maintained.
Outline of Survey Results(Subjects: Two open-field tomato farms in Tochigi Prefecture and surrounding areas Survey period: Spring, summer, and autumn of 2012)
Vegetation

Generally, tomato cultivation involves rotating crops every year to circumvent the deleterious effects of continuous cropping, which result from the disproportionate depletion of certain nutrients in the soil. We found that, because this practice usually entails alternating fields to cultivate different crops, unsprouted crop seeds left in the soil can then belatedly produce buds in a field where different crops are being cultivated.

Wild animals and insects

Around the subject farms, we confirmed the predatory activities of goshawks, a raptor that has been designated a class II endangered species by the Ministry of the Environment of Japan and a near-threatened species by the Tochigi prefectural government. We also observed larks and streaked fantail warblers in the area. This suggests that the impact of open-field tomato cultivation on avian habitats remains minimal. Having also found more than three species of frog at both farms, we found that the management of the tomato farms has hardly any impact on frog habitats. This finding is significant because frogs and other amphibians are often used as an evaluation index for biological surveys due to their vulnerability to agrochemicals and their importance within the food chain. In addition, we found a number of dragonflies and bees that act as beneficial insects by preying on agricultural pests. Several species of spider were also found. While certain species were often observed on crop ridges where straw had accumulated, other ridges with less straw provided a habitat for different spider species.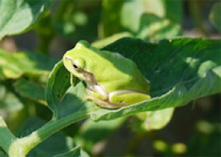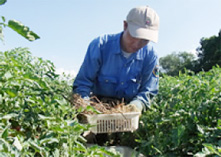 Promotion of Sustainable Farming
Promotion of Sustainable Farming in Japan
Promoting sustainable farming by means of contract farming
We produce the tomatoes we process in Japan (for use as ingredients of tomato juice and other products) through contract farming.
At Kagome, contract farming refers to a method by which we determine the price of the tomatoes with our contract farmers and purchase all tomatoes harvested in contract farms. We supply seeds and saplings, offer guidance on how to cultivate the crops, and secure a stable yield. This makes tomato farming a stable revenue source of our contract farmers.
In recent years, farmers have faced difficulty maintaining their farmlands - a problem caused by the aging of the farming population. To address this issue, we have developed labor-saving cultivation methods, such as machine harvesting, and new breeds of tomatoes (such as one whose stem end is not left on the fruit when it is harvested). We thus reduce the labor of cultivating tomatoes to help our contract farmers continue farming.
Farmland biodiversity is maintained only through proper maintenance and management. We therefore help tomato farmers remain in their business so as to curb the increase of abandoned farmland and maintain farmland that supports rich ecosystems.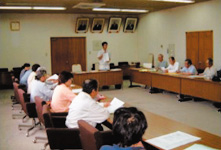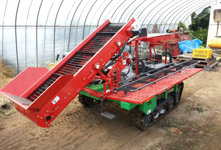 Efforts in agricultural development and regional revitalization in Japan
• Promoting agricultural development through agreements with local communities
Kagome has entered into agreements with local governments across Japan and launched the "Locally Grown, Nationally Consumed" campaign in 2010, as a way of bringing local specialties from all over Japan and seasonal tastes to customers through the Kagome brand products. The agreement covers 15 prefectures, and encourages diverse cooperation in these locations, such as the provision of disaster aid, and activities with the aim of agricultural and economic development, in addition to the utilization of local produce as raw materials.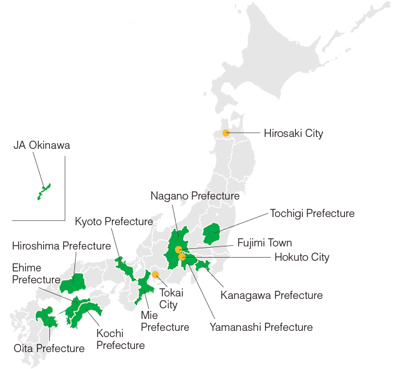 • Using vegetables and fruits from regions all over Japan as ingredients for vegetable drinks
The "Yasai Seikatsu 100 Seasonals Series," which forms the core of the "locally grown, nationally consumed" campaign, is a limited-time product using seasonal fruits.
By limiting production numbers, we are able to prevent the series from becoming a commodity, and to sell it maintaining the value of the ingredients. As a result, local farms can earn more appropriate revenues for their produce, allowing them to sustainably cultivate crops.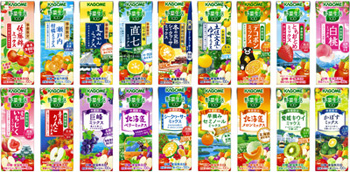 Revitalizing Regional Farming by Connecting Producers with Consumers
In October 2016, the Direct Marketing Business Department launched a new business brand named "Kagome Nouen Ouen" in addition to the existing brand of "Kenko Chokusobin." "Kagome Nouen Ouen" is our activity for helping farmers pass their valuable agricultural products, which we found by travelling around Japan, on to the next generation. We took the growing interest in local regions and agriculture related to food as a good opportunity to begin these activities. We deliver agricultural products, which were carefully grown by local producers, and Kagome products made using them, together with stories. We would like to contribute to the revitalization of regional farming and regional revitalization by connecting local producers with consumers via "Kagome Nouen Ouen."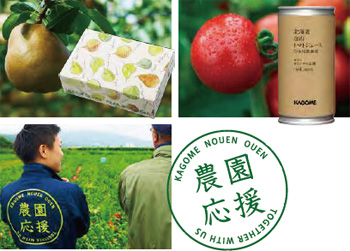 Promoting Sustainable Farming Overseas
Building Farming Infrastructure Overseas by Providing Guidance on Tomato Cultivation
Tomato consumption is expected to increase with global population growth. In response, we have established the Kagome Agri-Business Research and Development Center in Portugal. One of its main objectives is to increase the number of our tomato production bases. This center is conducting research in Senegal for launching a business of farming and processing tomatoes, targeting countries in West Africa with large populations. While tomato paste is part of dietary culture of this region, most of the tomatoes used there are imported. Kagome aims to build a tomato farming infrastructure in the region by improving cultivation technologies and establishing a business model.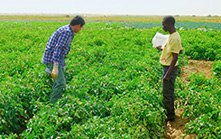 Research and development of the leading cultivation technologies for tomatoes for processing
Since March 2015, we have been working overseas to develop cutting-edge technologies for cultivating tomatoes for processing, making use of big data. Specifically, we utilize data obtained from sensors for climate, soil, etc. installed in experimental fields, data from satellites and drones, and data from environments for farming operations such as irrigation and fertilization, to maximize yield while minimizing the amount of water, fertilizers, and pesticides used according to the growth status of tomatoes and climatic conditions. We thus aim to increase added value in agriculture and minimize the environmental impact of agriculture.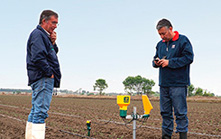 Maintenance and Effective Use of Genetic Resources
The Innovation Division maintains genetic information database that includes the seeds of approximately 7,500 tomato varieties, a size that makes it a world-leading private-sector database. To establish this database, we collected the seeds of tomato varieties with diverse distinctive genetic characteristics. Drawing on this database, we promote plant breeding to create useful new tomato varieties.
These seeds are stored at a constant temperature and humidity. We update them periodically because aging deteriorates their germination rates. We take these meticulous steps to maintain our genetic information database on tomatoes. We provide certain genetic information on wild and other tomato varieties to public and other research institutions. In this way, the Innovation Division functions as a kind of gene bank.
We also reevaluate the genetic information we collect and use the results of the reevaluations to develop new disease-resistant tomato varieties with reduced agrichemical requirements.
In FY2016, we filed a total of ten applications for the registration of breeds, including a disease-resistant fresh tomato variety.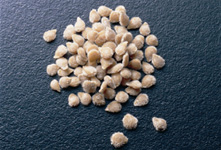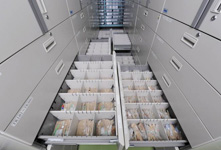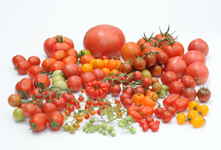 Seed Development Suited to Each Country's Farming Conditions
United Genetics Holdings LLC., with bases in eight countries including the United States (California), develops its own varieties of vegetables such as tomatoes, and supplies seeds and seedlings in more than 80 countries worldwide. Developers, called breeders, spend years improving varieties using traditional cross-breeding technology instead of genetic modification, and develop varieties suitable for each country's farming conditions and market needs through trial and error. Vegetables developed in this way are highly resistant to disease, thus enabling a large increase in yield and significantly contributing to raising the productivity of agriculture.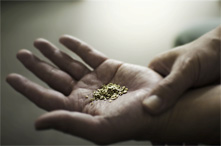 Changing Pollenating Bees from Foreign Species to Native Species
Kagome began to produce and sell fresh tabletop tomatoes in 1998. Unlike tomatoes for processing, which are grown outdoors, tabletop tomatoes are grown inside greenhouses where wind pollination is impossible. We therefore use bees to pollenate those fresh tomatoes. Knowing that the foreign species Bombus terrestris was listed as a candidate for specific foreign species that are potentially problematic, we changed the pollinators in the three directly managed large greenhouses in Japan to Bombus ignites in May 2004. Moreover, the five large greenhouses established afterwards also employed Bombus ignitus from day one. The breeding technology of this species had not been established, and its effects on the quality and economy of the tomatoes were unclear at that time. However, through the proactive technological development of Kagome, it was soon successfully employed. The technology is currently well-established enough to employ Bombus ignitus for the cultivation of tomatoes all over Japan.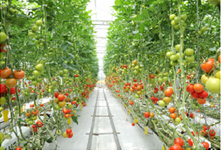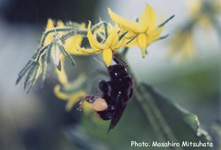 Helping Children Learn the Importance of Life
In 1999, Kagome began to distribute saplings of Lylyco, tomatoes used for juice, free of charge to elementary schools, kindergartens, and nursery schools nationwide. The saplings are used as educational materials to nurture children's interest in life as well as their sense of gratitude.
Comment from an elementary school teacher
We harvested Lylyco after overcoming many challenges, such as insect damage, disease, and damage from a typhoon. Each time we faced a challenge, the children's desire to save Lylyco only grew stronger. They took care of Lylyco enthusiastically, reading books to find out how to tackle the problems, consulting a local farmer, and taking other actions. They also learned that considerable time and a lot of effort is needed to harvest vegetables, and that farmers face hardships and devise creative measures before harvesting.
This has enable our children to realize the importance of having a sense of gratitude for farmers and food. It has also led to a reduction in school lunch leftovers.